Humboldt's New, Single-Machine Solutions for Triaxial and Permeability Testing
Humboldt's new Automated Pressure Controllers provide an accurate and compact single-machine configuration for performing triaxial tests without the need for separate distribution panels while simplifying tubing and control cable setup. These machines are perfect for small labs or any lab trying to minimize machine footprints. These new machines are available in two configurations. These new automated pressure controllers also provide higher operating pressure— up to 500psi — and more accurate readability — 0.0001CC, while providing fully automated testing.
The HM-5810 is designed to handle saturation, consolidation and permeation of triaxial test samples. It can also be used solely for permeability testing as well, eliminating the need for distribution panels, etc.
The HM-5820 provides all the capabilities of the HM-5810, as well as performing a shear function with its integral HM-5020 Load Frame. This allows lab technicians to also perform triaxial shear tests without having to purchase the additional components.
Full Test Control and Data Logging
Both machines are built around Humboldt's integral, data logger with touch-screen control, allowing them to be used as standalone devices capable of full test control and data logging. They can also be controlled by a network computer at any location with access to the network.
Both machines can set cell, head and tail pressures in increments of 0.1 PSI while volume change is measured to 0.0001cc. The flow rate for permeation can be set from 1 cc/sec (60 cc/min) down to less than 0.000002 cc/sec (0.00012 cc/min). There are three data input channels – one for each pressure transducer, or if you are only doing permeability, you will only need one of the channels/pressure transducers.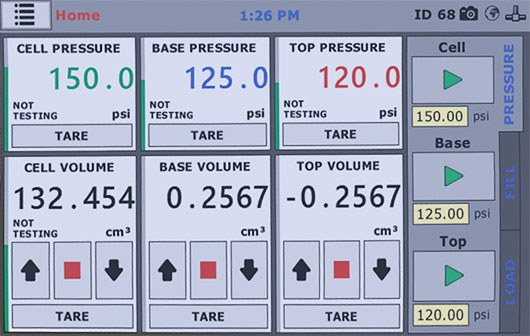 Comparison of HM-5810.3F and
HM-4150.3F
In the chart below, we compare a standard setup for permeability testing, ASTM D5084, between the new HM-5810.3F for fully-automated testing and a standard setup with our HM-4150.3F panel setup. As you can see the HM-5810.3F provides several advantages: the choice of 150psi and 500psi for running tests; a volume readability of 0.0001CC vs. the 0.02CC of the HM-4150.3F, and the ability to do ASTM D5084 methods A and D with fully-automated operation. This comparison points out the benefits of the HM-5810.3F, which include: faster, reduced test times using higher pressures; fully-automated testing, which reduces operator interaction that frees up your tech for other work while the tests; faster ROI of equipment costs and the benefit of having one, self-contained machine, freeing up counter space and clutter.
HM-5810.3F
HM-4150.3F
Operating Pressure
Choice of 150psi or 500psi
Up to 150psi
Volume Readability
0.0001CC
0.02CC
Automated Testing
Yes
No
ASTM Tests
ASTM D5084
Constant gradient method A & D
Fully-automated testing
ASTM D5084
Constant gradient method A & C
Manual testing
Other Equipment Required
Permeability specimen cell
De-airing tank
Vacuum pump
Specimen accessories
Permeability specimen cell
De-airing tank
Vacuum pump
Specimen accessories
Software
Pressure Transducer
Readout
Air compressor
Other Benefits
Completely Self Contained
Quick ROI (2-3 times that of HM-4150)
Fully-automated, does not require operator interaction during test
Faster, reduced test times