HM-5125.3F Balanced Mix, Automated Load Frame
Humboldt's HM-5125.3F load frame has been designed to provide precise test rate control for the automated testing of balanced mix samples. It is also capable of handling Ideal-CT SCB (ASTM), SCB (AASHTO), Marshall, TSR and HVEEM tests. This easy-to-operate load frame allows you to easily choose your test and its parameters in the Test Setup Wizard for automated operation of the testing process and results.
The HM-5125's heavy-duty design and precise stepper-motor control provide a stable platform for years of reliable service. From educational institutions and consulting firms to high-volume commercial labs and construction projects, the HM-5125 Load Frame can perform these applications with ease.
The HM-5125 is built around Humboldt's integral, data logger with touch-screen control, which allows the load frames to be used as standalone devices capable of full test control and data logging.
Operators can see all the data in several formats at the machine during the testing procedure. For those wishing to print out test results, you can utilize Humboldt's, free Data Download Software. For iFIT applications, the user may wish to import the machine test data to Humboldt's Data Download software and then export from Humboldt Data Download to a file acceptable for the iFIT software. The iFIT is currently not stand alone and requires external PC software.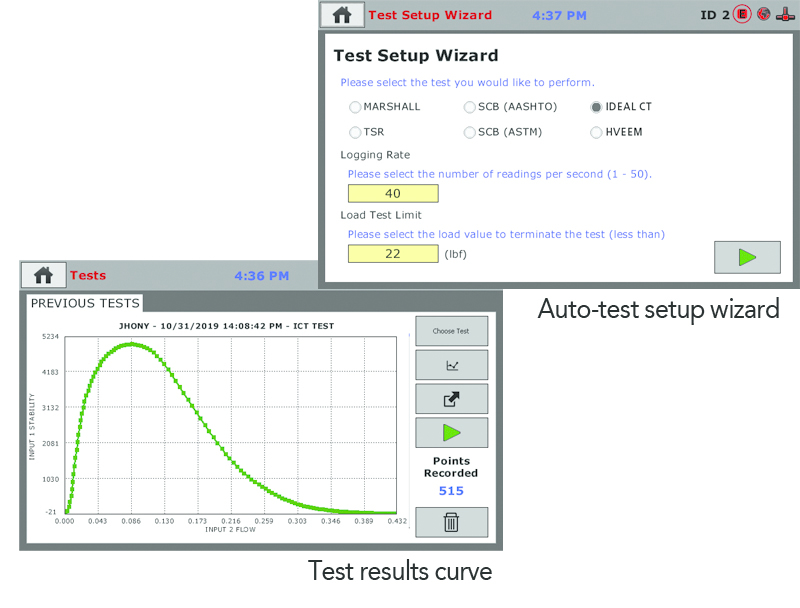 The HM-5125 is sold as a Load Frame ONLY, refer to the Testing Setup charts on this page and the next to perform specific tests.
Supports the Following Standards: ASTM D8225, D8084 (LSU Method), Ideal-CT (TTI Method), D5581, D6931; AASHTO TP124 (IL Method), T245, T283; BS 598; EN12697-34
Standalone Touch-Screen Controller Provides:
Multi-channel data acquisition
Hi-res, 7", waterproof, touch-screen provides total control and real-time graphical display of tests
Machine/Test control and data acquisition via touch-screen
Real-time graphical chart and numerical display of tests via touch-screen display
Calibration of channels to load cell and transducer
Effective sampling rate of 50 readings per second
Stores up to 1000 tests with 3000 points per test
2 USB Ports - One in front for data transfer and the
rear port is for powering a wireless access point.