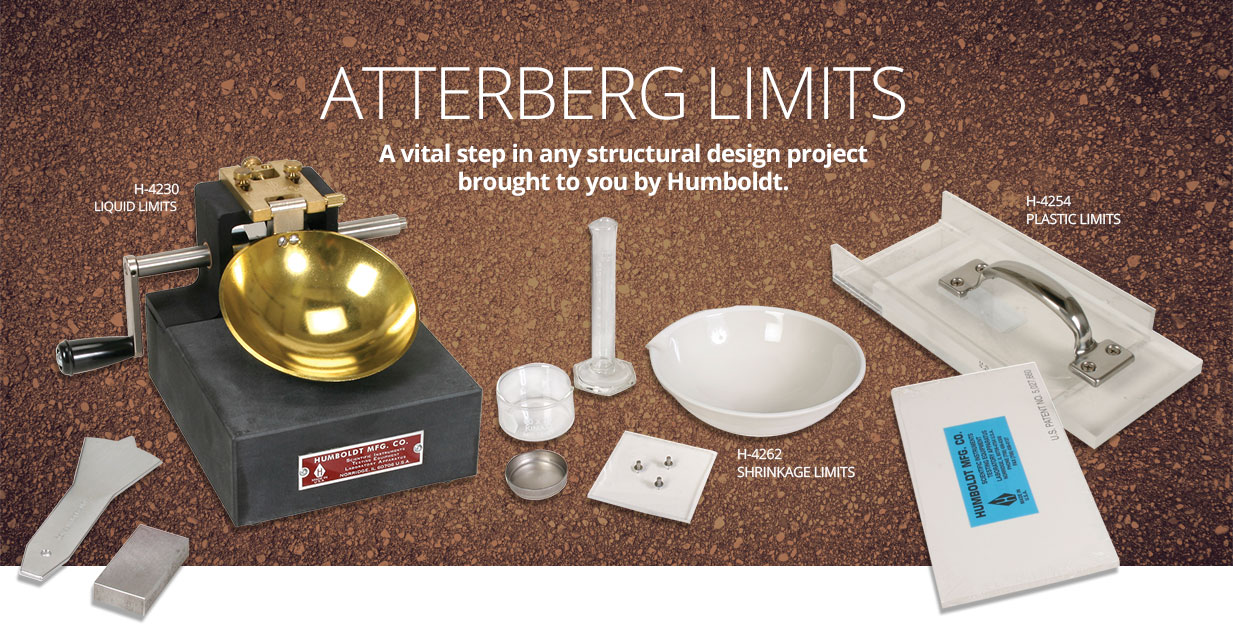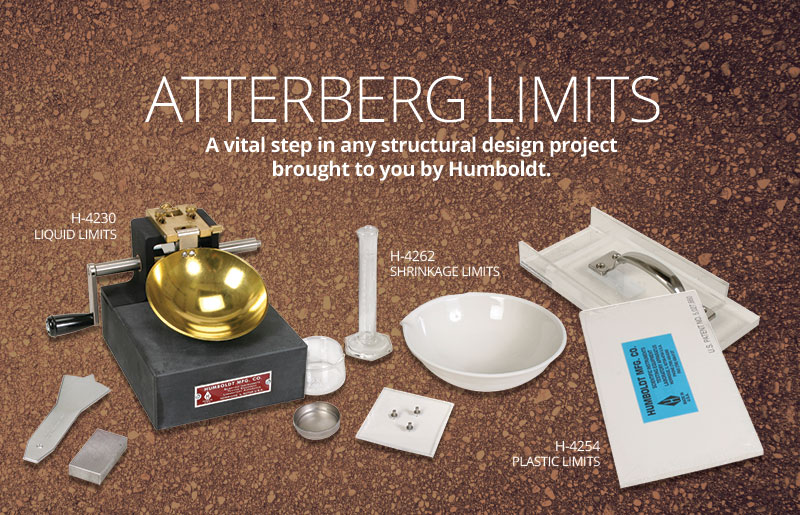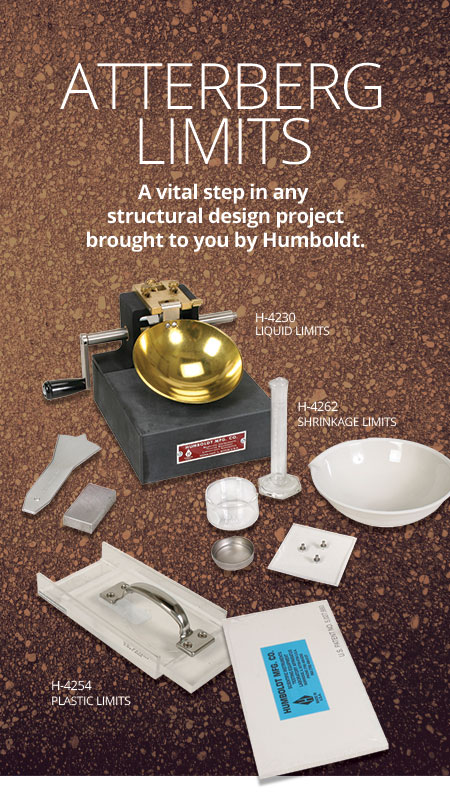 When soil testing is critical, trust Humboldt's Atterberg Limits Soil Testing Equipment
Atterberg Limits Soil Testing, ASTM D4318
Atterberg limits is a basic measure of the critical water content of fine-grained soils. These tests include shrinkage limit, plastic limit, and liquid limit, which are outlined in ASTM D4943. Depending on the water content of a soil, it may appear in four states: solid, semi-solid, plastic and liquid. The consistency and behavior of a soil is different as are the engineering properties at varying degrees of moisture content. Thus, the boundary between each state can be defined based on a change in the soil's behavior. The Atterberg limits can be used to distinguish between silt and clay, and to distinguish between different types of silts and clays. These limits and tests were developed by Albert Atterberg, a Swedish agriculturist and later, were refined by Arthur Casagrande.

These tests can be used in evaluating various soils, which will ultimately have structures built upon them. Soils when wet retain water, and some expand in volume. The amount of expansion of a soil is related to the ability of it to absorb water and its structural make-up. Atterberg tests are mainly used on clayey or silty soils since these are the soils most affected by expansion and shrinkage due to varying moisture contents.
Thus the Atterberg tests are used widely in the preliminary design stages of structures ensuring that the soil will have the correct amount of shear strength and will exhibit minimal volume change as it expands and shrinks with different moisture contents.
For more information about the importance of Atterberg Limits, view the Humboldt Quick Reference Guide

Liquid Limit Testing Tools
The consistency and behavior of soils vary throughout. Therefore, qualities such as moisture content, hardness and reliability are important to test within specimens in order to assure stability in the structures they support. To assess these characteristics, Atterberg limit tests are done often to measure water content within on-site soil.
One way to measure the critical water content of fine-grained soil is through its liquid limit. Liquid limit is defined as the water content at which the behavior of clayey soil changes from plastic to liquid. Using ASTM Standard D4318, the liquid limit test of soil determines this transition over a range of water contents. More specifically, it gives valuable information regarding the state of consistency of soil on-site.
A liquid limit test of soil can be determined using two methods:
The Casagrande cup method, which is widely used in the United States, defines liquid limit as the moisture content required to close a metal cup filled with soil paste a distance of 0.5 inches using a liquid limit machine. This method is normally run at several moisture contents to determine which requires 25 blows to close the groove.
The cone penetration test for liquid limit is more prevalent in Europe and measures the moisture content at which a cone will penetrate a soil sample a distance of 20 mm in approximately 5 seconds. This less is less dependent on the operator when determining a soil's liquid limit.
In each testing type, many data points are collected and used to plot a flow curve which ultimately establishes a liquid limit. To ensure an accurate curve, high-quality equipment must be used in these tests. These liquid limit machines and accessories should follow ASTM standards and produce error-free results time and time again.
Humboldt provides a wide variety of equipment for the liquid limit test of soil. With liquid limit machines for the Casagrande cup method and cone penetrometers for the penetration method, you are sure to find products for all of your testing needs. Entire Atterberg liquid limit tests are also available.
For additional information about Humboldt's Atterberg Limits products, visit our Atterberg Limits Soil Testing Equipment page or our Geotechnical Testing and Engineering landing page for more about soil testing.
If you have questions or need help selecting the liquid limit testing tool that is right for your needs, please call us at 1.800.544.7220 or use our Ask Humboldt form.
Plastic Limit Testing Tools
Plastic limit is a test that involves rolling out a thread of the fine portion of a soil on a flat, non-porous surface. The procedure is defined in ASTM Standard D4318. If the soil is at a moisture content where its behavior is plastic, this thread will retain its shape down to a very narrow diameter. The sample can then be remolded and the test repeated. As the moisture content falls due to evaporation, the thread will begin to break apart at larger diameters. The plastic limit is defined as the moisture content where the thread breaks apart at a diameter of 3.2 mm (about 1/8 inch). A soil is considered non-plastic if a thread cannot be rolled out down to 3.2 mm at any moisture possible.
To obtain more information about Humboldt's Atterberg Limits products, visit our Atterberg Limitis Soil Testing Equipment page.
Shrinkage Limit Testing Tools
Shrinkage limit is a test that evaluates the water content of a soil where further loss of moisture will not result in an additional volume reduction. The test to determine the shrinkage limit is ASTM D4943. The shrinkage limit is much less commonly used than the liquid and plastic limits.
For more information about Humboldt's Atterberg Limits products, please visit our Atterberg Limitis Soil Testing Equipment page.
Contact a Humboldt product specialist at 1.800.544.7220 to learn more about our Atterberg Limits Soil Testing Equipment