Vacuum Degassing Oven, VDO Touch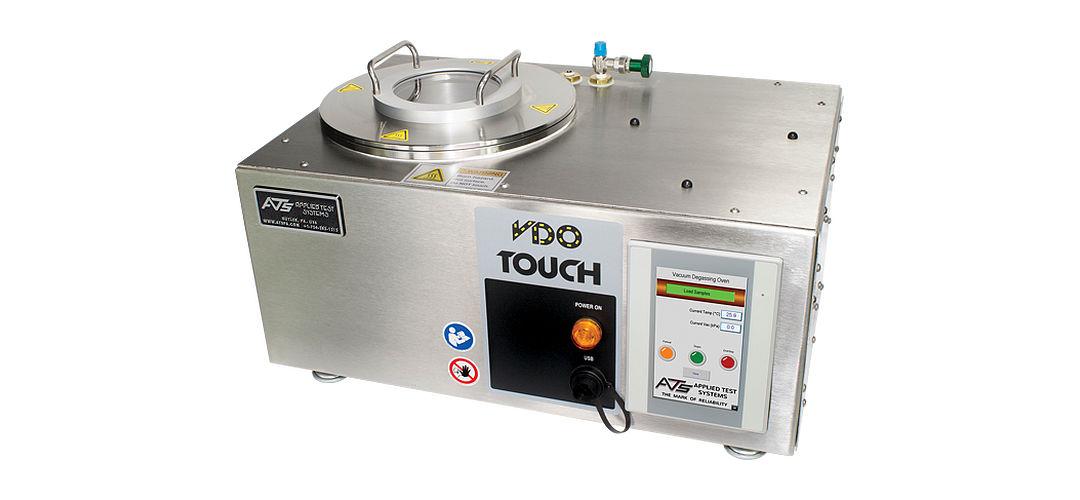 Product Options
Vacuum Degassing Oven, VDO Touch
Supports the following standards: AASHTO R28, EN 14769
The vacuum degassing oven (VDO) is used to precisely and accurately degas pressure-aged binder samples and is designed for rapid removal of entrapped air bubbles in asphalt specimens to the required 15 ±1.0kPa (25.5Hg). The network-ready 7" (178mm) touch-screen controller features easy menu-driven operation in multiple language options for fast programming of vacuum, temperature values and soak times. The controller display indicates time, temperature, and current process stage, with alerts at the end of each test. When connected to a network with an Ethernet cable, the VDO Touch can be operated remotely via smart phones, tablets, or PC's. USB Ports allow easy software upgrades.
The compact, table-top unit is constructed of stainless steel with a hinged lid to conserve space while allowing easy access to the stainless steel vacuum chamber. The oven holds up to (8) 4 oz. (114ml) or (4) 8 oz. (236ml) sample containers and features a self-contained, automatic vacuum system.
Temperatures in the VDO Touch vacuum chamber are measured by a platinum RTD probe with a range from ambient to 200°C with accuracy to ±5°C. Soak and degass times are both programmable up to 4,320 minutes. The rugged stainless steel cabinet, chamber and cover are easy to maintain, and the removable cover features a heat-resistant glass viewing window for monitoring purposes The VDO includes (4) 236ml (8oz) sample tins, and a specimen removal tool for easy loading and unloading of samples. Dimensions: 24" x16" x12" (610 x 406 x 304mm).
Features:
Automated tabletop degassing oven for rapid removal of entrapped air bubbles in asphalt specimens
Network-ready, 7" touchscreen controller provides simple control to input vacuum, temperature and soak time values
Ethernet cable connection enables remote operation via smart device
Capacity for eight 4oz (118ml) or four 8oz (236ml) sample containers
Specifications
| | |
| --- | --- |
| Operating pressure | 15±1.0 kPa (25.5Hg) |
| Temperature range | Ambient to 200°C |
| Temp. resolution | 0.1º C |
| Accuracy | ± 5º C |
Accessories
Standards
Standards
AASHTO R28
EN 14769