Direct/Residual Shear Apparatus, Manual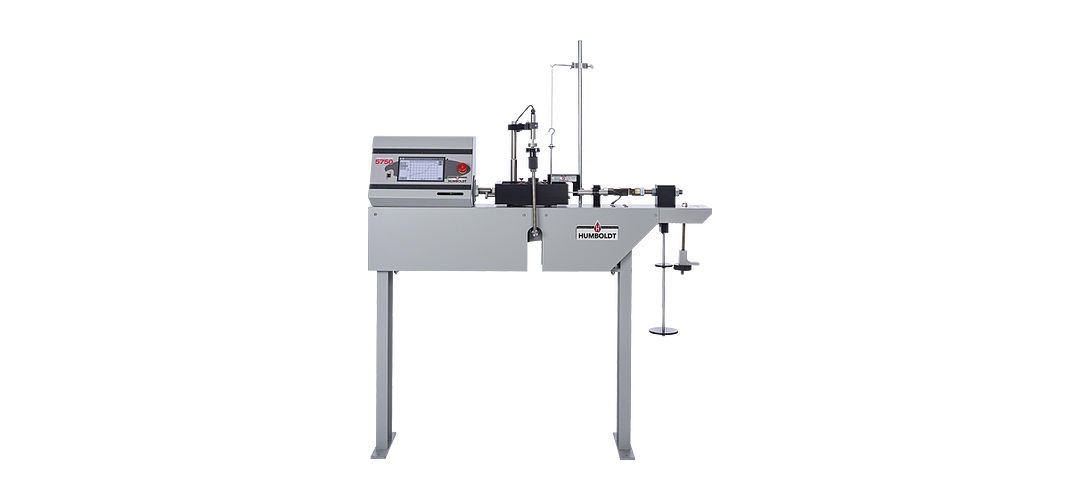 Product Options
Direct/Residual Shear Apparatus, Manual
Supports the following standards: ASTM D3080
The HM-5750 and HM-5750M Direct Shear machines are an economical choice for performing direct/residual shear tests utilizing the dead-weight method with load rings and dial gauges. These models include the carriage, stand, vertical load hanger and a balanced lever loading arm with a 10:1 ratio that reduces the weight required to perform tests. The micro-processor-based system features a stepper motor drive system and 7" touch-screen display.
The carriage accepts shear box squares up to 4.0" (100mm) internal dimension. Forward and reverse measurements permit residual shear testing as standard. A built-in safety feature prevents the over travel of the load measuring system.
The HM-5750 and HM-5750M are supplied complete with a 2,000 lbf (10kN) capacity load ring, 1.0" x 0.001" (25.4 x 0.01mm) and 0.5" x 0.0001" (12 x 0.002mm) dial indicator. Shear box assemblies and related accessories are not included and should be ordered separately.
Specifications
| | |
| --- | --- |
| Horizontal Movement: | 2" (50mm) Maximum |
| Horizontal Shear Force: | 2000 lbf (10kN) |
| Vertical Load: | 2000 lbf (10kN) |
| Data channels: | 0 Channels |
| Speed Range: | 0.00001 to 0.49999 in./min. 0.00001 to 12.9999 mm/min. |
| Data storage: | None |
| Dimensions (L x D x H): | 40" x 10" x 45" (1016 x 254 x 1143mm) |
| Voltage: | 110/220V 50/60Hz - 6.5amps |
| Net weight: | 300 lbs (136kg) |
Typical Test Setup for HM-5750.3F
| SKU | QTY | Name |
| --- | --- | --- |
| HM-5750.3F | 1 | Direct/Residual Shear Apparatus, Dead Weight Method, Standard |
| HM-1120 | 1 | Weight Set Consolidation Testing Weight Set, 16 TSF |
| HM-2751.20S | 1 | Shearbox Assembly, 2.0" (Square) |
| HM-2702.20S | 1 | Shearbox Cutter, 2.0" (Square) |
| HM-2703.20S | 1 | Dolly Tamper, 2.0" (Square) |