Freeze Thaw Cabinet, Elite Series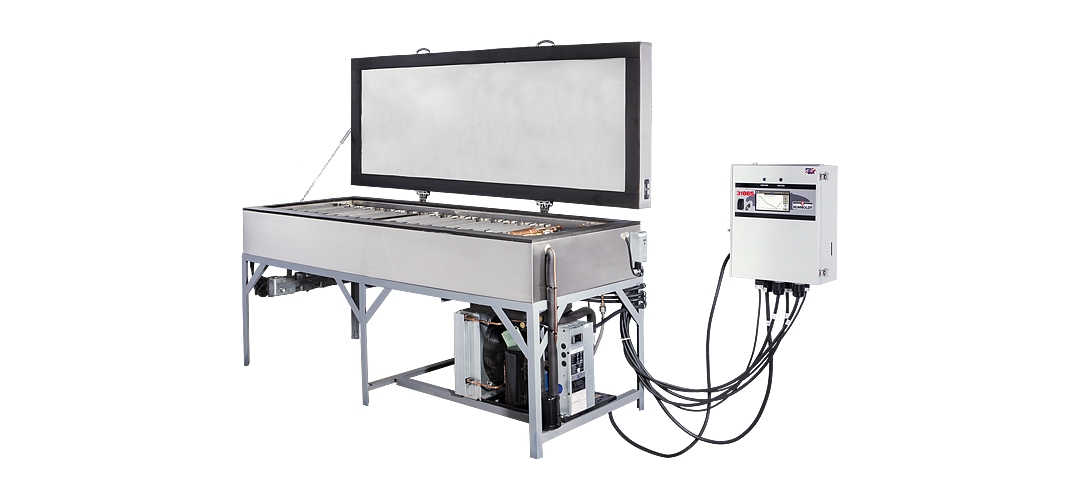 Product Options
Freeze Thaw Cabinet, Elite Series
Supports the following standards: ASTM C666,
AASHTO T161

,

PROCEDURE A

Humboldt's Elite Series, Freeze-Thaw Cabinet is used to measure the resistance of concrete to deterioration caused by repeated cycles of freezing and thawing. The HC-3186S.4F Freeze-Thaw is designed to test up to eighteen 3" x 4" x 16" (76 x 102 x 406cm) concrete specimens simultaneously, with one being a control.

Key features of the Freeze-Thaw include:
Fully automatic operation frees operator to perform other lab duties.
Allows users to establish field control using correlations between concrete strength and durability
Permits the evaluation of variables in concrete properties and conditioning.
Useful in the evaluation of the durability of aggregates, as well as the properties of admixtures.
Humboldt's touch-screen controller provides you with full, graphical monitoring of all testing functions in a stand-alone application. Now you can have full, finger-tip control and monitoring of all testing functions with Humboldt's touch-screen controller, found on our Freeze-Thaw Cabinet. The seven-inch, waterproof screen provides at-a-glance monitoring of testing functions, in a real-time graphical display, without the use of a computer.
Now, in a stand-alone application, you will be able to run tests and display results while viewing tabulation, basic x-y graphs and temperature readings in real-time during the test, using user-defined, basic data acquisition. Test data is stored in the device and can be downloaded to a USB drive via the machine's USB port.
The HC-3186S.4F Freeze-Thaw provides the following capabilities:
User-created test control is possible, for changing freeze time, minimum temperature, maximum temperature and the number of cycles desired.
Real-time, on-screen control and monitoring with graphing, allowing different data views to be chosen.
Test data can be reviewed after a test is completed, which includes tabulation and graph views.
Touch-screen interface for easy navigation.
Complete report generation from with the Humboldt NEXT software. Test data can also be exported to computers via a network or thumb drive.
Remote control and monitoring via network and internet.
It is possible to have up to eight freeze-thaw cycles within a 24-hour period, however, the exact number of cycles is dependent upon the time required for the temperature at the center of the control prism to fall from 40 to 0°F (4.4 to -17.8°C) and then back to 40°F (4.4°C). The temperature at the center of the control specimen is controlled with the use of a 0.75HP (0.6KW) refrigeration unit and electric resistance heaters with fully automatic controls.
Current temperature of the control specimen can be checked by a glance at the large, 7" color display on the controller. It is also possible to track the temperatures of freeze-thaw cycles in real-time with a glance at the display. These graphs and tabular data can be used to produce reports of tests within the Humboldt NEXT software or downloaded to other computers or software for reports.
For corrosion resistance and long service life, the HC-3186S Freeze-Thaw features a stainless steel, 84"L x 32"W x 35.75"H (213 x 81 x 91cm) cabinet construction with 3" (76mm) insulation on all sides. The internal test compartment measures 74" x 26" x 6" (188 x 66 x 15cm). A 30-amp circuit is required for operation.
Freeze-Thaw Cabinet includes:
(17) H-3185TA Stainless Steel Sample Tray, 3" x 4" x 16.375" (76 x 102 x 406mm)
(1) H-3185TSA Stainless Steel Sample Tray with spout, 3" x 4" x 16.375" (76 x 102 x 406mm)
Order H-3195 freeze-thaw molds separately.
Specifications
Condenser Operating Temperature Range
-30°F to 45°F (-34°C to 7°C) evap (R-404A) Designed for up to 110°F (43°C) ambient
Data channels
1
Data storage
1000 tests and up to 3000 readings per test
Cabinet Dims
84"L x 32"W x 35.75"H (213 x 81 x 91cm)
Controller Dims
22.25"H x 16.25"W x 6"D (56 x 41 x 15cm)
Voltage
208/230V 50/60Hz Single Phase - 30amps
Controller Specifications
| | |
| --- | --- |
| Display | 7" (178mm) VGA (480 x 800) Resistive-touch screen |
| Real-time test data | Graphic and tabulation |
| Processor | Dual 32-bit ARM |
| RAM | 64MB |
| Memory, non-volatile | 4GB |
| Data acquisition | 1 Channel |
| Logging speed | 1 reading every 5 minutes |
| Multi-test storage | 1000 |
| Points per test | 3000 |
| USB port | Used to export data via thumb drive |
| Ethernet connection | For network connectivity |
| Firmware Update | Ethernet or flash drive |
Accessories
Replacement Parts
Standards
Standards
AASHTO T161
PROCEDURE A
Product Videos
All Videos