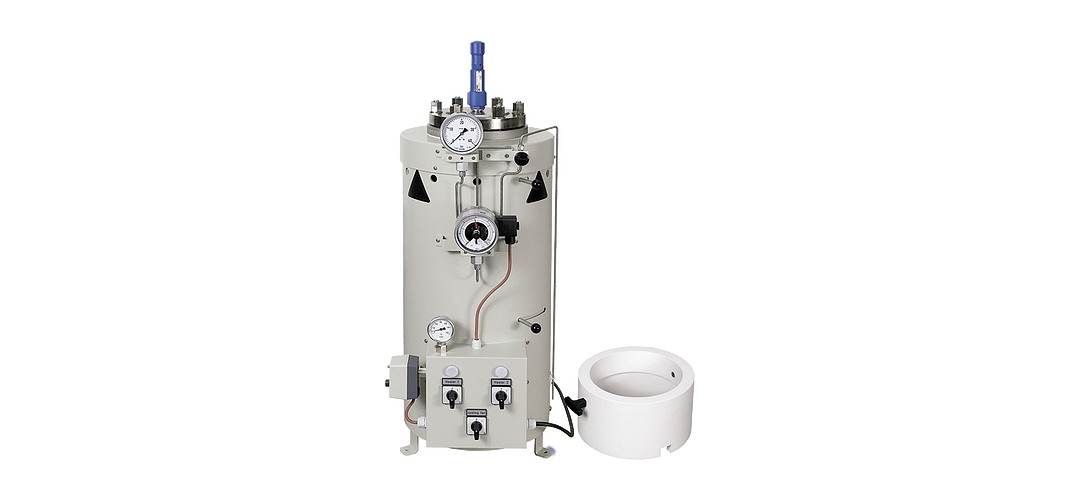 Product Options
High-Pressure Autoclave
Supports the following standards:
AASHTO T107
Uses accelerated means of estimating delayed expansion of Portland cement caused by hydration of CaO and MgO. This is done by determining the volume constancy of mortar prism samples. Test bars are exposed to high-pressure steam compartment, which accepts a sample holder for 8 prisms per ASTM, 1" x 1" x 11.25" (25 x 25 x 285mm) and 6 prisms as per the DIN standard, 40 x 40 x 160mm. Unit has a capacity of 7.8 liters, a max pressure of 360 psi (25 bar) and a max temperature of 482°F (250°C).
Includes two gauges, one for temperature and one for pressure and a safety pop valve for safety. Also includes security test certificate for pressure chamber in accordance with EN pressure device directive.
The 120V 60Hz version of this autoclave comes with an auxillary voltage converter, which is included. Overall dimensions: 20.5 dia" x 44" (550 dia x 1120)
Use H-3241.1 (ASTM) and H-3241.2 (DIN) prism bar frames with this autoclave.
Accessories