Data Logger, Humboldt 4-Channel Analog, 120/220V 50/60Hz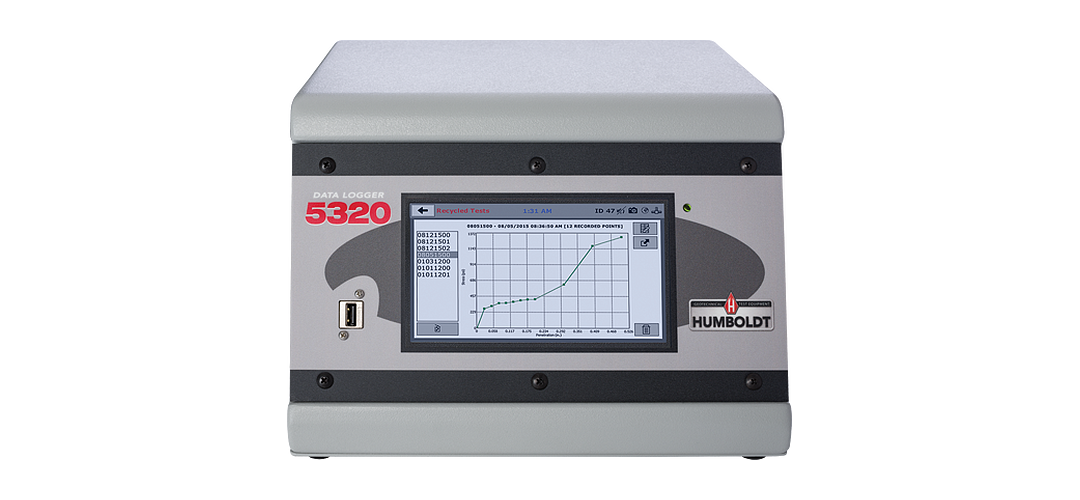 Product Options
Data Logger, Humboldt 4-Channel Analog, 120/220V 50/60Hz
Designed for applications where it is desired to add data acquistion capabilties to older or simpler testing equipment that does not have data acquisition capabilities. These data loggers provide advanced data acquisition and reporting functions effectively updating the equipment they are used with.
The HM-5320 provides four individual, 24-bit analog to digital converters with an instrumentation excitation supply of 10 VDC. This analog data logger is ideal for use with instruments, such as pressure transducers, load cells, and strain transducers. It provides data storage for 1000 readings per channel.
Humboldt's Elite Series Data Loggers are specifically designed for use within construction materials testing labs. You can use Humboldt Data loggers to cost-effectively update your older, non-computerized load frames, direct shear and consolidation machines with computerized data acquisition— increasing lab output, freeing-up technicians and providing more accurate test results. Humboldt's modular-design, data acquisition concept is designed to give you the most flexible and cost-effective method of data logging for your lab. Rather than having to buy into a large data logging system and then growing into it, Humboldt data loggers give you the flexibility and low cost outlay of being able to buy loggers on an "as you grow" basis, increasing your data logging capability as your expansion demands.
Humboldt Data Loggers can be used with a wide variety of transducers, load cells and digital indicators; and both come with Humboldt's, highly-regarded, NEXT software. This software provides robust data acquisition, calibration and report generation for those wanting to use a computer to monitor tests and collect test data. In stand-alone mode, these data loggers provide a 7" (178mm) touch-screen controller, which probides real-time, visual views of your data in both tabular and graphic formats. These new waterproof, touch screens provide colorful, at-a-glance monitoring of testing functions without the use of a computer. Operators can see all the data in several formats at the machine while the test is running. Data can then be viewed simultaneously or downloaded later to a computer in the lab, in the next room or at a different location, while also providing report generation capabilities from within Humboldt's NEXT software or our enhanced test-specific modules. When operated from a networked computer the NEXT software provides robust machine and test control, and report generation. It also allows the ability to control and monitor multiple machines from a single computer.
Elite Series Data Logger Features:
Four channels with real-time data acquisition
Hi-res, 7" color, waterproof touch-screen
2 USB ports. One in front for data transfer and the rear port is for powering a wireless access point.
Nonvolatile test data storage and instrument calibration
Battery-backed, real-time clock
Auto conversation of instrument calibration between English or Imperial units and SI or metric units
Test setup and selection via touch screen
Automatic triggering of test logging data
View test data in real time via 7" touch screen
Logging rate as fast as 0.1 second/reading
Humboldt Next Software
Up to sixteen units can be connected to a computer.
For information about converting your older Humboldt product to the current model, click here.
For general information about Humboldt's Elite Series Data Loggers, click here
Specifications
| | |
| --- | --- |
| Display: | 7" (178mm) VGA (480 x 800) Resistive-touch screen |
| Real-time test data: | Graphic and tabulation |
| Processor: | 64MB |
| RAM: | 10" (254mm) / 4" (100mm) |
| Analog to digital converter: | 24 bit |
| Data acquisition: | 4 Channels |
| Logging speed: | up to 50 readings per second |
| Multi-test storage: | 1000 |
| USB port (front): | use to export data and import/export calibration data, also use to provide external power for optional WIFI adapter |
| USB port (back): | provides external power at the back of the machine |
| Ethernet connection: | for network connectivity |
| Emergency stop: | Large button |
| 24-bit differential analog to digital converter (21 bits @1000 samples/sec.: | 4 |
| Ambient temperature sensor: | 1 |
| Limit switches: | 4 |
| Firmware Update: | Ethernet or flash drive |
Accessories