Humboldt Asphalt Density Profiler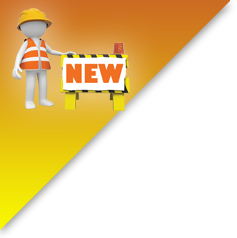 Product Options
Humboldt Asphalt Density Profiler
Supports the following standards: AASHTO PP98-19
Humboldt's Asphalt Density Profiler with both radar compaction and infrared temperature sensors, generates maps of asphalt compaction and temperature with no nuclear sources needed. The Humboldt Asphalt Density Profiler measures asphalt pavement density using advanced radar technology without using nuclear sources. The radar sensor continuously scans the surface to produce compaction or density maps. Additionally, an integrated temperature sensor generates pavement temperature maps. Temperature differences indicate locations where the asphalt mix is not uniform in terms of temperature or mix (i.e., too little binder, different aggregate, etc.). Cold zones and improperly compacted zones lead to premature failure of the mat.
Data Visualization
The Asphalt Density Profiler produces two-dimensional maps of the work area rather than a handful of measurements at specific locations. These maps of compaction and temperature provide much more information than the spot measurements of traditional density gauges. The profiler has an integrated GPS so that compaction and temperature data can be exported into Google maps and sent to any smart device (cell phone or tablet) for viewing. The ability to view information in map form provides much better coverage, fast and easy interpretation.
A Better Alternative
The Asphalt Density Profiler does not use any nuclear sources and does not emit dangerous radiation. Costs and risks associated nuclear sources are eliminated. No more nuclear safety training classes. No more source licensing headaches. The Asphalt Density Profiler has been designed for high reliability and to be easy to use. All cabling has been eliminated to improve ease of use, and end common problems associated with connectors and cables.
What the Researchers are Saying
When laying down an asphalt mat, research has shown that cold spots are not compacted properly. The IR temperature sensor clearly delineates these zones. Compaction measurements from the radar sensor can be made even after the mat has cooled. The Transportation Research Board has published a detailed study that illustrates the the use of these instruments: Using Infrared and High-Speed Ground-Penetrating Radar for Uniformity Measurements on New HMA Layers, TRB, available at: http://nap.edu/22769.
Specifications
2GHz, bi-static radar antenna
Non-contacting IR temperature sensor
Requires the use of a Dell Latitude tablet computer. (purchased separately, see below)
WiFi connection between sensor and tablet for cableless operation
Durable construction with IP65 ingress protection
Positioning system includes wireless odometer, GPS and optional inertial measurements
Provides continuous real-time pavement density and temperature measurements
Generate maps of pavement density and temperature
Calibrate the unit from core measurements, in-lab or in-field.
Rechargeable 4400mAh LiFePO4 battery for up to 6 hours continuous operation
Unit comes with spare battery and integral charging station located in case.
Shipping dimensions: 36" x 28" x 20" (91.4 x 71.1 x 50.8cm)
Weight: 99 lb (45kg)
Complete system includes: 2 GHZ radar antenna, scan cart, 2 batteries and carrying case with integral battery charger.
Required, but purchased separately— Dell Latitude tablet computer. Choose HA-62000
Dell Latitude 7212, Rugged 11.6" FHD TouchScreen - Intel Core i5-7300U, 256GB SSD, 16GB RAM, GPS, 2 Webcam, Windows 10 Professional,
Wi-fi, Bluetooth.
For more information and details about the HA-6000A.3F Pavement Scanner, visit our landing page.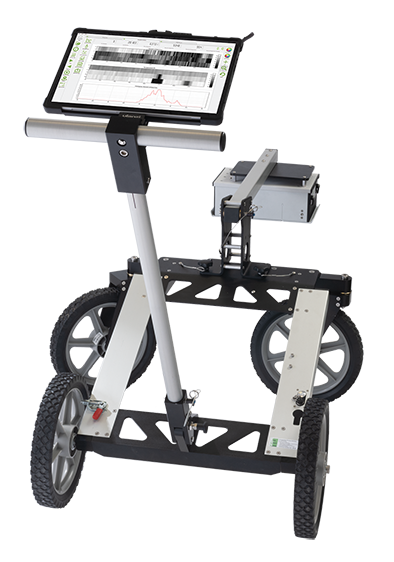 Accessories