Pneumatic, Semi-Automated Direct/Residual Shear Apparatus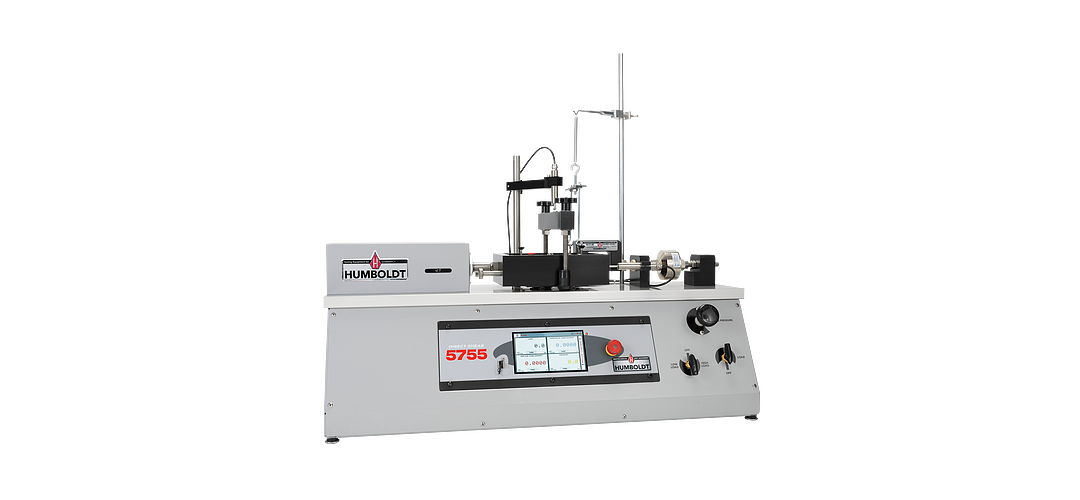 Product Options
Pneumatic, Semi-Automated Direct/Residual Shear Apparatus
Supports the following standards:
AASHTO T236

,

BS: 1377:7

The HM-5755 is a semi-automatic pneumatic loading machine, which with its touch-screen monitor provides test control and live test monitoring in either a stand-alone or computer-controlled configuration. With the HM-5755, pneumatic loads are controlled by manual valve controls located on the front panel for easy use. The HM-5755 also provides four (4) integral and independent data acquisition channels, which can be utilized in stand-alone configurations or accessed through a LAN-networked computer using Humboldt's Next Software.

In stand-alone mode, the HM-5755 direct shear machine provides a 7" (178mm) touch-screen controller, giving you finger-tip control of your testing processes, as well as providing real-time, visual views of your data in both tabular and graphic formats. These new waterproof, touch screens provide colorful, at-a-glance monitoring of testing functions without the use of a computer. Operators can see all the data in several formats at the machine while the test is running. Data can then be viewed simultaneously or downloaded later to a computer in the lab, in the next room or at a different location, while also providing report generation capabilities from within Humboldt's NEXT software or our enhanced HM-5700SW Direct Shear software module.

When operated from a networked computer the NEXT software provides robust machine and test control, and report generation. It also allows the ability to control and monitor multiple machines from a single computer.

The HM-5755 is supplied complete with a 2,000 lbf (10kN) capacity load cell; 1" (25.4mm) horizontal strain transducer, a 0.4" (10.2mm) vertical strain transducer and Humboldt's NEXT software.

Humboldt's NEXT Direct Shear module and related accessories are not included and should be ordered separately.

Computer Control
NEXT software and the enhanced Direct Shear module, HM-5700SW, is included with the HM-5760 pneumatic direct-shear machine. This software provides robust machine control, data acquisition and report generation for those using a computer to control consolidation testing operations.
In addition, operators have the ability to view and control testing operations from a PC in the lab, in the next room or at a different location, while also providing report generating capabilities using the consolidation test-specific software module.
So, whether you are controlling a single direct-shear machine, controlling multiple machines. or even a complete geotechnical lab, Humboldt's NEXT software, in conjunction with Humboldt's HM-5760 Direct-shear machine, provides a complete solution for acquisition, recording and presentation of direct-shear testing data in data tabulation and graphic chart formats.
Machine control, and data acquisition via a networked computer
Provides the ability to use Humboldt's Next Software's, advanced test-specific modules
Real-time graphical chart and numerical display of tests via computer display
Effective sampling rate of 50 readings per second
Stores unlimited tests with up to 3000 points per test.
Up to 255 individual tests can be run simultaneously from a single PC
Provides advanced graphing capabilities
Provides full-unit customization
Reports can also be exported to Excel or a CSV file, if desired, and, we can provide custom integration/export solutions for LIMS, EQuIS, gINT, etc.
Counter-balance device for ASTM D3080 compliance is included. Not available anywhere else. Also available as a retrofit kit. HM-2560A.1
Specifications
| | |
| --- | --- |
| Horiz. Movement: | 1" (25.4mm) Maximum |
| Horiz. Shear Force: | 2000 lbf (10kN) |
| Vertical Load: | 2000 lbf (10kN) |
| Data Channels: | 4 |
| Speed Range: | 0.00001 to 0.49999 in./min. (0.00001 to 12.9999 mm/min.( |
| Data Storage: | 1000 tests and up to 3000 readings per test |
| Dimensions: | 30" x 15.5" x 22" (760 x 394 x 558mm) |
| Voltage: | 110/220V 50/60Hz - 6.5amps |
Controller Specifications
| | |
| --- | --- |
| Display (Resistive Touch) | 7" (178mm) VGA (480 x 800) |
| Real-time Test Data | Graphic and Tabulation |
| Processor | Dual 32-bit ARM |
| RAM | 64MB |
| Memory, Non-Volatile | 4GB |
| Analog to Digital Converter | 24 bit |
| Data Acquistion | 4 Channels |
| Logging Rate | effective rate of 320 readings per second |
| Multi-Test Storage | 1000 |
| Points Per Test | 3000 |
| USB port (front) | export data, import/export calibration data, WiFi |
| USB Port (back) | provides external power for wireless access point |
| Ethernet Connection | for network connectivity |
| 24-bit Differential Analog to Digital Converter | 4 |
| Ambient Temperature Sensor | 1 |
| Firmware Update | flash drive |
System Requirements
| | |
| --- | --- |
| AC Supply | 110/220VAC 50/60 Hz 5 Amp |
| Air Supply | Clean and dry (air filter, water trap), minimum: 100psi (700kps) continuous air supply 10CFM (0.3m3/min) |
Additional Items Required
| | |
| --- | --- |
| PC Computer | Not Supplied |
| Desiccant Dryer, Silica Gel | HM-4222 |
| Filter/Regulator | HM-4223 |
| Direct Shear/Consolidation Installation Kit | HM-4168 |
Accessories
Standards
Standards
AASHTO T236
BS: 1377:7