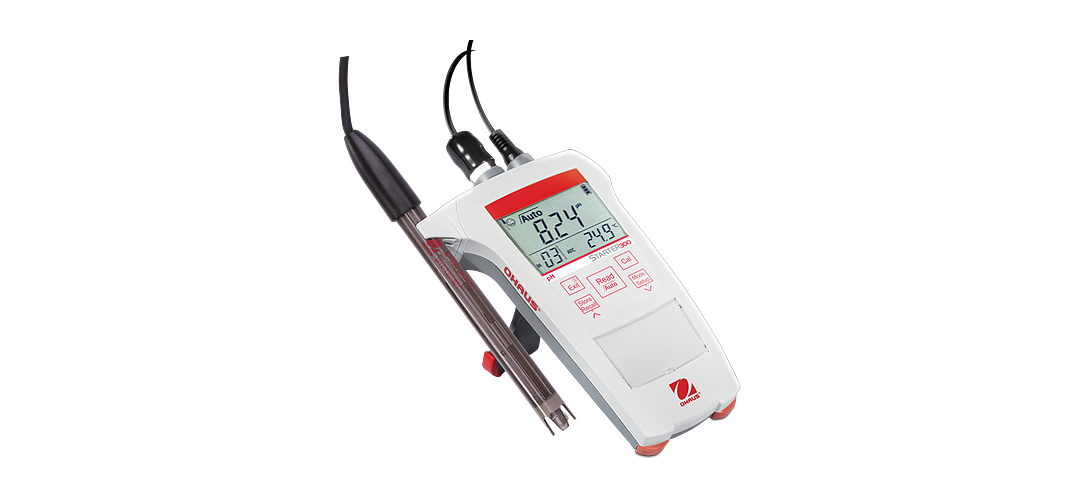 Product Options
pH Meter, Portable
The HO-4930 portable pH meter marries portability with precise pH measurement. An ORP or temperature electrode can also be easily connected to provide additional functionality.
Auto buffer recognition stores calibration data and helps to avoid errors during the calibration process
Automatic and manual temperature compensation helps ensure accurate readings
The OHAUS Starter Series of portable water quality & electro-chemistry meters was created with versatility in mind. They can be operated in the lab with the support of the built-in stands or in the field thanks to their lightweight design. With a crisp, well-organized LCD screen and five clearly marked keys, utilizing the OHAUS Starter Series is simple for students and teachers alike. The portable OHAUS Starter Series also boasts IP54 protection which shields the meter from damage by water and dust particles and also offers an integrated labeling area which can be customized for quick identification. Each meter can store 30 sets of data memory and has the ability to quickly recall calibration data and stored information with one quick touch.
Includes HO-4964 Plastic Gel, non-refillable electrode (0-14pH).
Specifications
Measurement Range: 0.0-14.0pH
Resolution: 0.01pH 1 mV 0.1°C
Accuracy: ± 0.01pH ± 1 mV ± 0.5°C
Calibration: 3 Points, 1 Predefined Buffer Group
Temperature Range: 0.0-100.0°C
Weight: .39 lb. (.18kg)
Accessories