CBR/LBR and Marshall Automatic Load Frame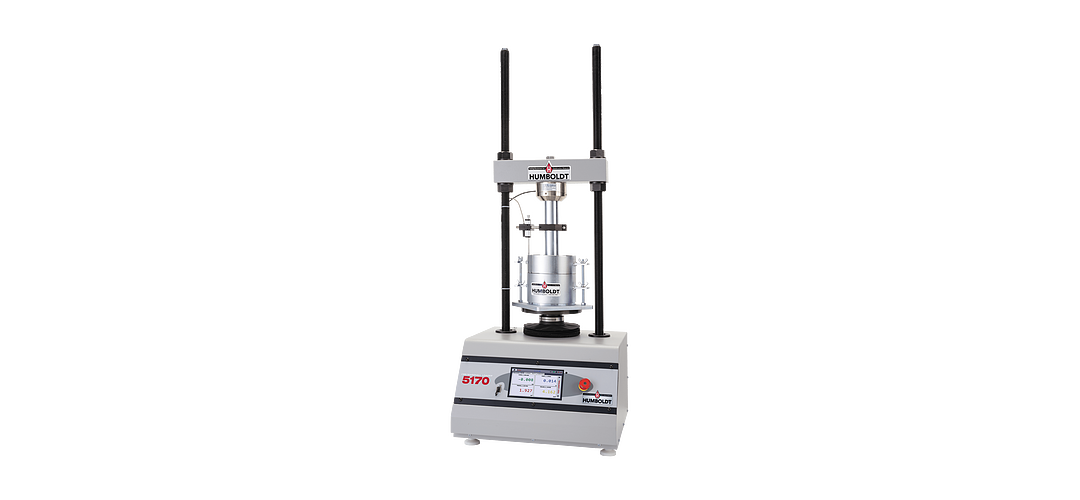 Product Options
CBR/LBR and Marshall Automatic Load Frame
The HM-5170A Load Frame has been specifically designed to handle CBR and LBR testing, as well as Marshall testing for asphalt. Its heavy-duty design and precise stepper-motor control provides a stable platform for years of reliable service. From educational institutions and consulting firms to high-volume commercial labs and construction projects, the HM-5170A Load Frame can perform these applications with ease.
The HM-5170A is built around Humboldt's integral, data logger with touch-screen control, which allows the load frame to be used as a standalone device capable of full test control and data logging.
It is recommended that users operate the testing procedure from the front panel of the load frame, since Marshall testing is such a short, time-sensitive test.The waterproof, touch screens featured on these load frames provide a colorful, at-a-glance monitoring testing functions without the use of a computer. Operators can see all the data in several formats at the machine during the testing procedure. Test data can then be transferred to a computer for use with Humboldt's NEXT Software for report generation. A Marshall-specific software module is also available for use with the NEXT software, which provides Marshall-specific setup and formatting, rather than the generic formatting provided with the basic NEXT software.
Standalone Control
Touch-Screen Controller provides:
Multi-channel data acquisition
Hi-res, 7", waterproof, touch-screen provides total control and real-time graphical display of tests
Machine/Test control and data acquisition via touch-screen
Calibration of channels to load cell and transducer
Real-time graphical chart and numerical display of tests via touch-screen display
Effective sampling rate of 50 readings per second
Stores up to 1000 tests with 3000 points per test
2 USB ports. One in front for data transfer and the rear port is for powering a wireless access point.
Humboldt's NEXT software is included with all Elite Series Load Frames. In the case of the HM-5120A and HM-5170A for use with Marshall testing, it is recommended this software be used for data acquisition and report generation only and not for control of the machine. In this application the NEXT software can provide advanced graphing capabilities, full-unit customization and reports can also be exported to Excel or a CSV file.
The HM-5170A is sold as a load frame only.
Specifications
| | |
| --- | --- |
| Load Capacity: | 11000 lbf (50kN) |
| Speed Range: | 0.05 in/min (1.27mm/min) and 2 in/min. (50.8mm/min.) for Marshall test |
| Data Channels: | 2 |
| Platen Size / Travel: | 8" (203mm) / 4" (100mm) |
| Data Storage: | 1000 tests and up to 3000 readings per test |
| Clearance, Vertical: | 27" (686mm) |
| Clearance, Horizontal: | 11" (286mm) |
| Voltage: | 110/220V 50/60Hz - 5.0amps |
| Net Weight: | 120 lbs (54kg) |
Controller Specifications
| | |
| --- | --- |
| Display (Resistive Touch) | 7" (178mm) VGA (480 x 800) |
| Real-time Test Data | Graphic and Tabulation |
| Processor | Dual 32-bit ARM |
| RAM | 64MB |
| Memory, Non-Volatile | 4GB |
| Analog to Digital Converter | 24 bit |
| Data Acquistion | 2 Channels |
| Logging Speed | up to 50 readings per second |
| Multi-Test Storage | 1000 |
| Points Per Test | 3000 |
| USB port (front) | export data, import/export calibration data, WiFi |
| USB Port (back) | provides external power for wireless access point |
| Ethernet Connection | for network connectivity |
| Emergency Stop | Large Button |
| 24-bit Differential Analog to Digital Converter | 2 |
| Ambient Temperature Sensor | 1 |
| Ambient Temperature Sensor | 1 |
| Limit Switches | 2 |
| Firmware Update | Ethernet or flash drive |
CBR/LBR ASTM D1883 Typical Setup
| | |
| --- | --- |
| Pancake Load Cell, 11,000lbf (50kN) | HM-2300.100CP.3F |
| Linear Potentiometer Transducer, 1" (25mm) | HM-2305.10 |
| Penetration Piston with stud | H-4178 |
| Displacement Transducer Bracket | HM-5000BR |
| NEXT CBR/LBR software module | HM-5001SW |