cDAC™ Controller and Data Acquisition, 120/220V 50/60Hz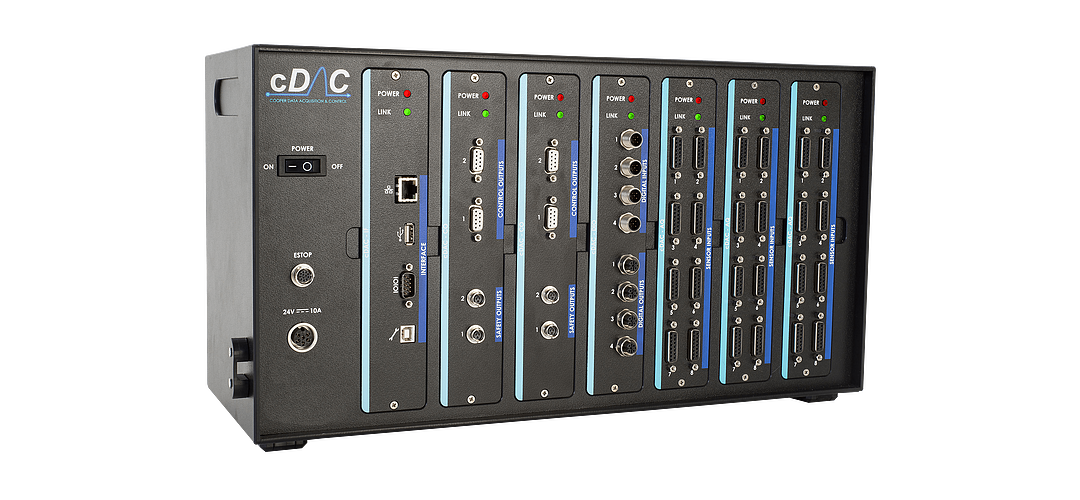 Product Options
cDAC™ Controller and Data Acquisition, 120/220V 50/60Hz
cDAC™ Controller and Data Acquisition
The cDAC digital data acquisition and control unit coupled with DIMENSION™ software, gives you the power to perform the most demanding of tests with our Universal, Dynamic Testing Machines. Both are designed with the ease-of-use and reliability required for standard testing and the flexibilty and advanced capabilities required for research.
DIMENSION™ Software Features:
Profile builder gives ultimate flexibility to design and store custom testing routines
Standard test library for quick and reliable testing to ASTM, AASHTO and CEN Standards
Transducer database to store and manage your sensors
Configurable waveform and summary data capture allows total control over the information gathered during a test
Multi-lingual test screen shows a graphical view of all connected transducers and calculated values in real time
Test data available in ExcelTM compatible fomat for user analysis
cDAC™ Hardware Features:
Provides a configurable design to meet your needs with up to 7 modules (max. 4 of each type) from the following per cDAC unit: Interface, Acquisition, Digital and Servo.
Interface Module:
100Mbit/s Ethernet TCP/IP and UDP connection to PC provides for fast and robust communications
RS232/422/485 serial port for connection to environmental chambers and other ancillary equipment
USB port for direct data logging
Atmel AT91SAM Smart ARM-based Micro-controller for high performance
Servo Module:
Dual 5kHz control loops per module
0.01 to 100Hz cycle frequency to meet all your testing needs.
Digital on-the-y adjustment of all PID parameters
Multichannel selectable feedback from any sensor (or sum of or difference between sensors) on any acquisition card
Hardware function generator
Bumpless transfer between control methods
Texas instruments TMS320DSP digital signal processor
16-bit Analog Voltage (±10V and (0 to 10V) and Current (±40mA, (0 to 20)mA, and (4 to 20mA)control output for servo valve or other control device
Digital Module:
4 x 24V opto-isolated digital inputs with 100mA sink capacity (each can be configured as counters)
4 x 24V opto-isolated digital outputs to drive auxiliary hydraulic/pneumatic solenoid valves with 1.6A drive capacity per channel (each can be configured as a PWM source)
NXP LPC2148 ARM7TDMI-S based high-performance 32-bit RISC micro-controller
Acquisition Module:
Any combination of up to 8 sensors per module (load cells, LVDTs, RTDs, strain gauge bridges, pressure transducers, and many, many more)
TEDS (Transducer Electronic Datasheet) sensors for plug and play measurement
Synchronous acquisition of all sensor measurements from all modules to eliminate data-skew
Multiple segment 5th order polynomial linearization of sensors for supreme accuracy
24-bit resolution on all channels
5kHz acquisition rate per channel
Anti-alias filters to prevent high-frequency interference
Auto-ranging ampliers with the following gain steps: 1/8, 1/4, ½, 1, 2, 4, 8, 16, 32, 64, 128
(0 to 10)V, 24V, and (0 to 20)mA power supplies for sensors