Silent Sifter® Rotary Sieve Sifter, Original Design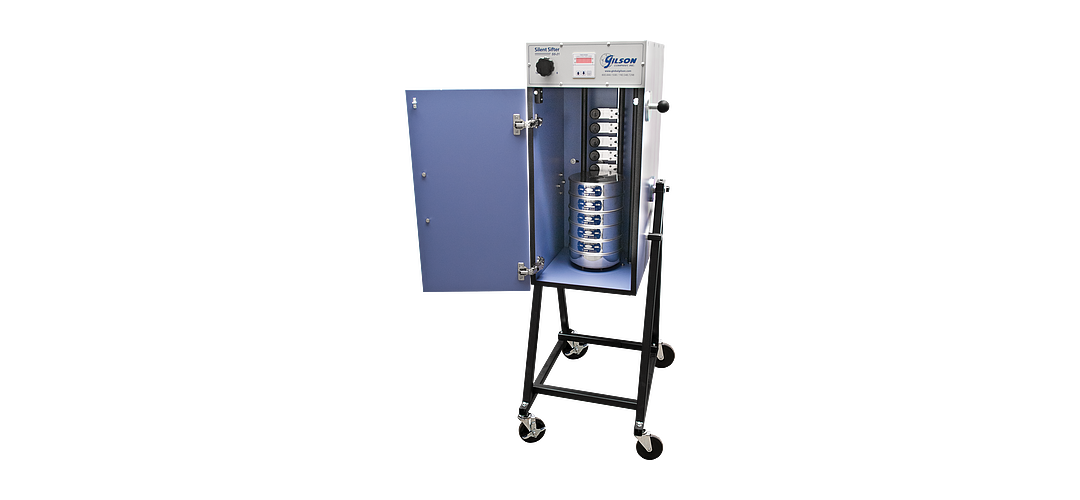 Product Options
Silent Sifter® Rotary Sieve Sifter, Original Design
The Original Silent Sifter® significantly reduces noise levels of sieving operations with no loss in performance and accuracy. This sieve sifter significantly reduces noise levels of sieving operations with no loss in performance and accuracy. It's innovative design and better materials reduce noise levels inherent to particle sizing more than other rotary sifters or sieve shakers. Faster conversion from 8" to 12" ASTM test sieves or 200mm and 300mm ISO test sieves, easier set up, and much quieter operation are all improvements over classic rotary sifters. Sieve stack capacity ranges from six 12" diameter full-height sieves with pan, or up to twenty 8" diameter half-height sieves with pan. Particle size range is 1in to No. 635 (25mm to 20µm).
Hammer assemblies are 6061 aluminum alloy with Ultra High Molecular Weight (UHMW) Polyethylene heads. Rugged painted case is dense, impact-resistant MDF board and is mounted on a sturdy, powder-coated ASTM A513 heavy steel tubing stand. The system is driven by a dependable 1/4hp continuous-duty motor. Enclosed cabinets allow for safe operation and to help confine and control the airborne respirable quartz, silica or crystalline particles in the breathing zone of personnel.
Sieve stacks are simply placed inside and the cabinet is rotated back to the testing position using an ergonomic knob, with no clamping required. Two rubber-covered stainless steel drive rollers continuously rotate the sieve stack, and particle separations are assisted by tapping against the stack. The digital countdown timer with large LED display precisely times operation up to 99 minutes at ±1 second. Pause function allows the cycle to be suspended and resumed with no loss of test time, and a five-second audible alarm sounds at completion of the interval. The controller is simple to program and the large, bright 0.5in (126mm) LED display is easy to read.
The included floor stand with locking swivel casters allows for easy mobility.
PLEASE NOTE: All sieves are sold separately. To purchase sieves, please visit our Sieve Selector.