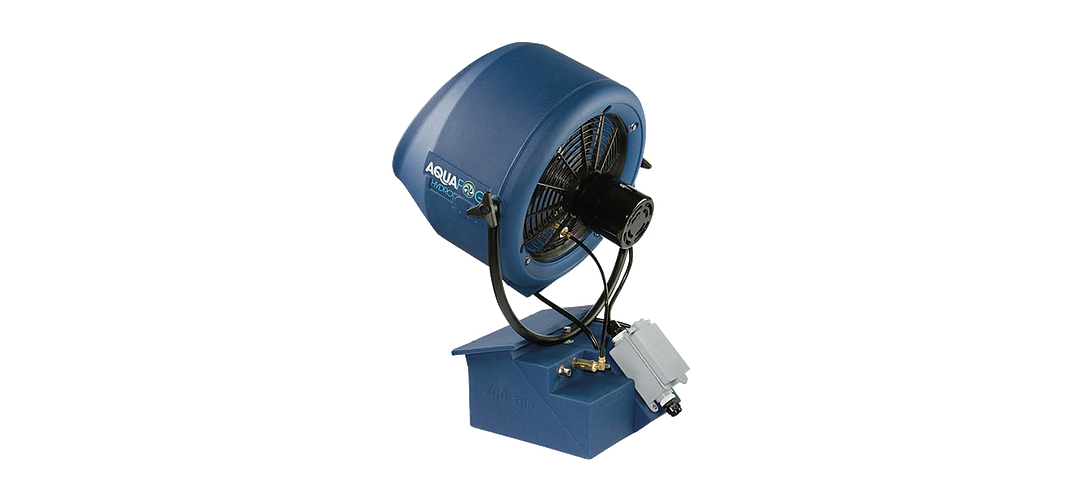 Product Options
Fine Mist Fogging Fan
Supports the following standards: ASTM C511
The H-2737 bench-type fogging fan is a quiet and dependable fogging fan, perfectly suited for the small curing rooms. The H-2737 conveniently sits on flat surfaces or shelves and is extremely easy to set up and operate. The nozzle-free fan can atomize ordinary water supplies into a very fine mist-like-fog, as well as pond water without the risk of clogging. Utilizing high-speed centrifugal force and air flow, these units can propel a misty-fog stream up to 20 feet away. The H-2737 is engineered to withstand humid conditions as high as 100% relative humidity. Units are constructed of impenetrable components like Nema 4 boxes and connections, all 304 stainless steel hardware, UV-stabilized polyethylene housing and precision, high-strength injection molded polypropylene components. Units also reuse their condensation waste water, eliminating the need of a near by drain. Bench top units fill automatically by means of an internal float valve and come equipped with a simple garden hose connection. A quarter-turn valve controls the fogging output.
Similar to the H-2737, the H-2738 is a direct-feed, hanging unit, which receives liquid directly through a visual flowmeter control panel. This provides for fine "repeatable" control of the fogging output, as well as enhancing dependability by eliminating sump components. Direct feed units are well suited for harsher environments or applications where standing water in a sump could become an issue. Each unit is equipped with a 5gph (20-300cc/min) flowmeter panel and 12 foot condensation drainage line. Not available in 220V 50/60 Hz
Specifications
Fogging Capacity: 0-3 gallons per hour
CFM Rating: 1,125 cubic ft. per min.
Energy Consumption: 1.5 amps @ 115V
Noise @ 10 ft.: 62dB(A)
Dimensions: 16" dia. x 16" length
Coverage: about 500 sq. ft.
Accessories