Giatec RCON2™ Concrete Resistivity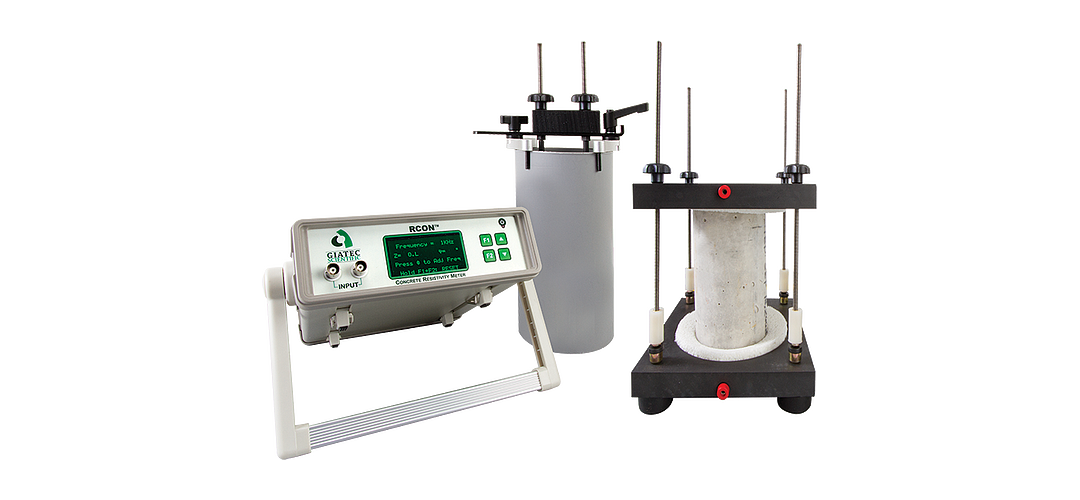 Product Options
Giatec RCON2™ Concrete Resistivity
RCON2™ is a non-destructive testing device that measures the electrical resistivity of concrete samples. Resistivity has been shown to be an excellent method for evaluating the micro-structural properties of concrete, including: diffusion of chloride in concrete; rebar corrosion in concrete; setting time of fresh concrete; curing of concrete; moisture transfer in concrete; cathodic protection design, and crack detection in concrete.
Since RCON2™ is a non-destructive testing method and requires no special sample prep, it can utilize the same samples that are currently being used for compressive strength testing without affecting that test.
RCON2™ is fast (measurement time is less than 5 seconds), accurate (±2%, utilizing variable frequency method) and flexible (the measurement can be taken with different settings and test configurations). It also allows for continuous measurement of electrical resistivity over time, which can be used to monitor several other parameters such as the changes of water content and time of setting in concrete specimens.
In concrete materials, electrical resistivity has been well correlated with important durability parameters such as permeability and diffusivity. In addition, this non-destructive test can easily be conducted on fresh or hardened concrete specimens at different ages or various stages of hydration in order to study workability, setting times and durability performance of the concrete. The electrical resistivity method has also been applied to investigate corrosion of rebar in concrete, creep, aggregate segregation and freeze/thaw of concrete since they affect the pore network properties. The concrete electrical resistivity techniques is also a suitable replacement for the rapid chloride permeability test of concrete (as per ASTM C1202) since there is a strong correlation between the electrical resistivity and durability performance of concrete.
The Giatec RCON2™ device, complete package includes: the RCON2™ unit, power adapter, test cable set, alligator test clip, sample holder, verification kit, Fresh concrete probe, User manual, communication software, USB cable, conductive gels, and 2 pairs of contact sponges.
Replacement Parts
Literature
Manuals, Data Sheets & Safety Data Sheets
Giatec RCON-2 (Data Sheet PDF)