Resipod Resistivity Meter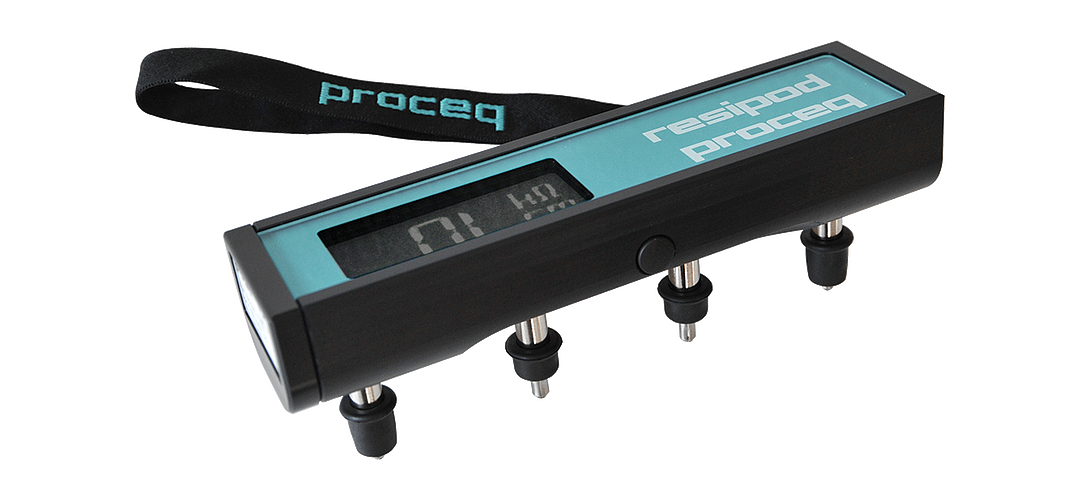 Product Options
Resipod Resistivity Meter
Supports the following standards:
AASHTO PROVISIONAL STANDARD TP 95-11
Resipod is a fully integrated 4-point Wenner probe, designed to measure the electrical resistivity of concrete in a completely non-destructive test.
Operating on the principle of the Wenner probe, the Resipod is designed to measure the electrical resistivity of concrete or rock. A current is applied to the two outer probes, and the potential difference is measured between the two inner probes. The current is carried by ions in the pore liquid. The calculated resistivity depends on the spacing of the probes.
It is extremely fast and stable and packaged in a robust, waterproof housing designed to operate in a demanding site environment. The Resipod is the successor of the classic CNS Farnell resistivity meter.
Surface resistivity measurement provides extremely useful information about the state of a concrete structure. Not only has it been proven to be directly linked to the likelihood of corrosion and the corrosion rate, recent studies have shown that there is a direct correlation between resistivity and chloride diffusion rate and even to determination of early compressive strength. This makes it one of the most versatile NDT methods for concrete.
Waterproof and designed to float
Supplied with a USB connection and dedicated Resipod Link PC software, rugged carrying case, test block and documentation
DOT tested and field proven through highway department studies
Specifications
Range: 0.1 – ca. 1000 kΩcm
Resolution: 200μA ±0.2 kΩcm or ±1%
Resolution: 50μA ±0.3 kΩcm or ±2%
Resolution: <50μA ±2 kΩcm or ±5%
Frequency: 40 Hz
Memory: 500 measured values
Power: >50 hours autonomy
Charger: USB type B, (5V, 100mA)
Accessories
Standards
Standards
AASHTO PROVISIONAL STANDARD TP 95-11