Humidity Curing and Storage Chambers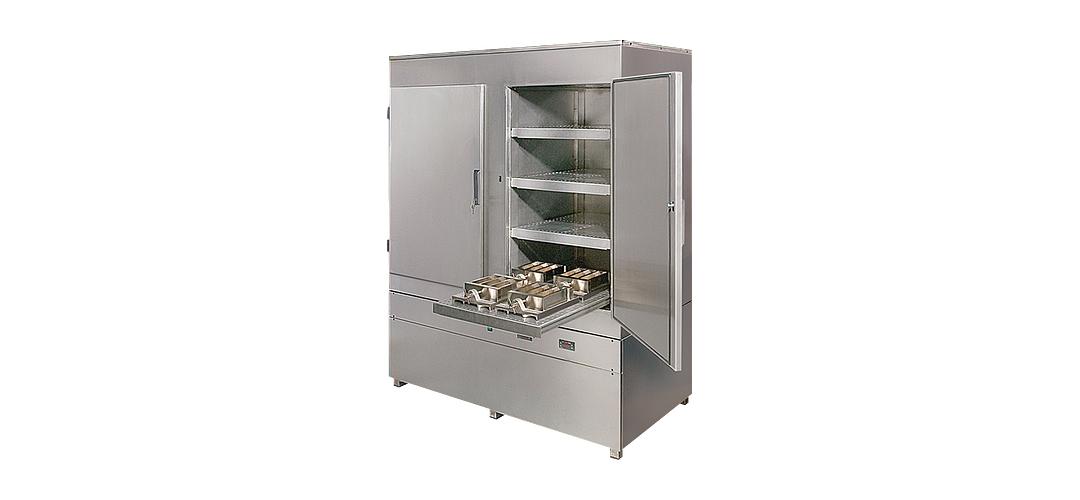 Product Options
Humidity Curing and Storage Chambers
Supports the following standards: ASTM C109,
EN 196-1
These upright humidity cabinets have been designed specifically for the curing and storage of mortar prisms and cubes in 3-gang molds. They feature durable stainless steel construction with durable specimen shelves that stand up to the loading and unloading of molds.
These chambers maintain a curing temperature 20 - 27°C (68 - 81°F) at an accuracy of ±1°. A humidity reading of > 95% can be maintained.
Chambers are available with 3, 6 or 9 shelves. Each shelf will hold (4) 3-gang molds. So the 3-shelf model will hold (24) 3-gang molds; the 6-shelf model will hold (32) 3-gang molds and the 12-shelf model will hold (48) 3-gang molds.
Electrical specifications for these cabinets are 230V / 50/60 Hz / 1200 W.
Specifications
| | |
| --- | --- |
| 3-Shelf Model: | 24 EN 196 molds, 60 ASTM C109 2" cube molds |
| 6-Shelf Model: | 32 EN 196 molds, 80 ASTM C109 2" cube molds |
| 9-Shelf Model: | 48 EN 196 molds, 120 ASTM C109 2" cube molds |
| Dimensions: | All models: 55" x 31.4" x 761400" (1400 x 800 x 1930mm) |
| Power: | 230V 50/60Hz - 1200W |