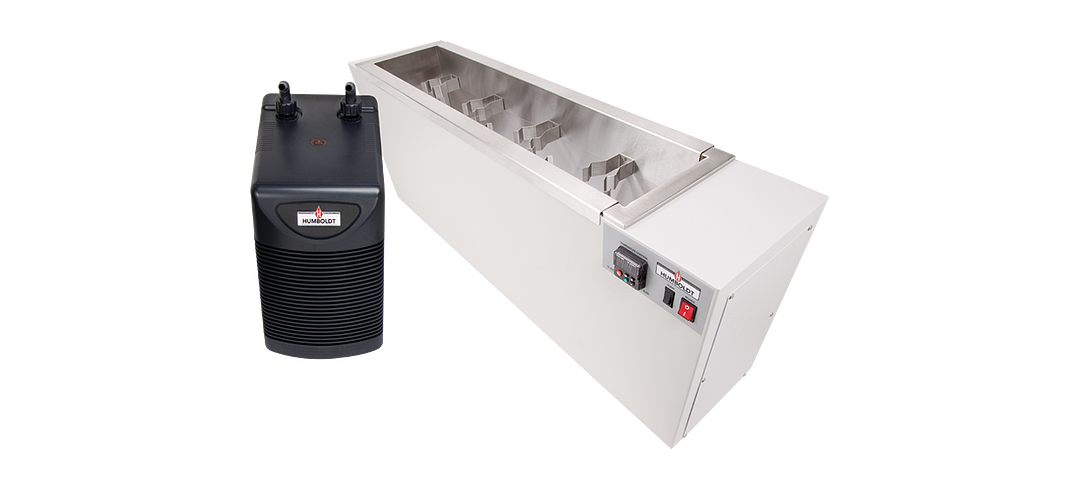 Product Options
Hydrometer Jar Bath
Supports the following standards: ASTM D3282, ASTM D422,
AASHTO T88
The Humboldt hydrometer jar bath is designed to provide a 68°F (20°C) ambient temperature throughout the unit by using a microprocessor-based temperature control with integral heater and chiller. The control processor in the H-4239A provides a consistent bath temperature of 68°F (20°C) accurate to within 0.1% of input span ±1°F, which makes it an ideal bath for storing hydrometer jars in accordance with the standards listed above. The Hydrometer bath also can be used for many other processes within a lab and can be set to maintain temperatures within its temperature range of 50°F (10°C) and 120°F (49°C).
The H-4239A jar bath is fully-insulated and includes a circulating pump, which ensures a constant water temperature throughout bath. The H-4239A can accommodate (8) hydrometer jars at a time. All models include a stainless steel shelf, which supports specimens while allowing 2" of free circulating water above and below specimens.
Specifications
Tank volume: 20.5 gallons (77.6 Liters).
Bath dimensions: ID: 37"L x 8"W x 16"D (940 x 203 x 406 mm).
Overall dimensions: 48"L x 11"W x 19"D (1220 x 280 x 483 mm).
Accessories