iCOR™ Corrosion Detection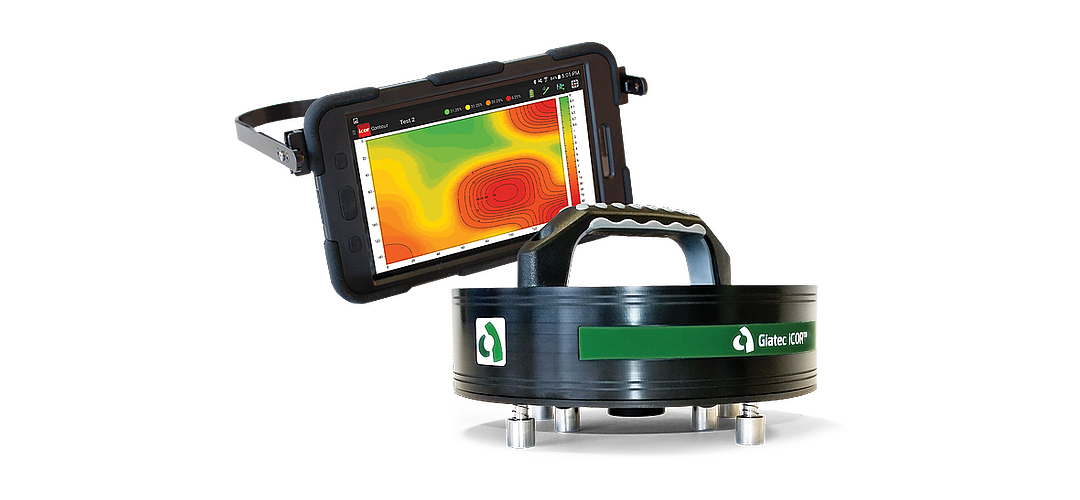 Product Options
iCOR™ Corrosion Detection
Giatec ICOR™ is a unique non-destructive testing tool for detailed detection and evaluation of corrosion in reinforced concrete structures without the need to have an electrical connection to the rebar. iCOR is equipped with high-precision sensors to measure:
Corrosion potential mapping of rebar
Corrosion rate mapping of rebar
Real In-situ electrical resistivity of concrete
Ambient temp. and relative humidity of rebar
On-site assessment of concrete durability
iCOR utilizes wireless technology to transmit data to a tablet, where data can be stored, analyzed and visualized. Moreover, the tablet app offers a powerful post-processing tool and an easy way to share the results with other team members. iCOR can significantly save time, human resources and cost in the condition assessment of concrete structures.
iCOR employs a complex electrical circuit model for predicting different properties of concrete materials, and steel reinforcement. An advanced mathematical algorithm is implemented in the core software of the device. This software processor is responsible for the analysis of certain characteristics of reinforced concrete structure such as the polarization resistance of embedded reinforcement and the "real" electrical resistivity of concrete.
Includes:
ICOR measuring device; measurement cable; charging cable; table charging cable; (3) contact sponges (half cell); (12) contact sponges (corrosion) electrode storage solution; conductive gel; spray bottle; case; data recording app; tablet and carrying support, tablet charger and verification kits.
*iCOR is a trademark of Giatec.
Specifications
| | |
| --- | --- |
| Testing Time: | 3 to 15 seconds |
| Corrosion Rate: | 0 ~ 300 µm / year |
| Corrosion Potential: | +200 to -800 mV / CSE |
| Electrical Resistivity: | 0 ~ 10,000 Ω • m |
| Operating Temperature: | 32 to 113°F (0 ~ 45°C) |
| Operating Humidity: | 20~ 90% RH |
| Dimensions: | 250 x 70mm |
| Weight: | 900g |