Ohaus Explorer Precision Balances, 9,000g - 40,000g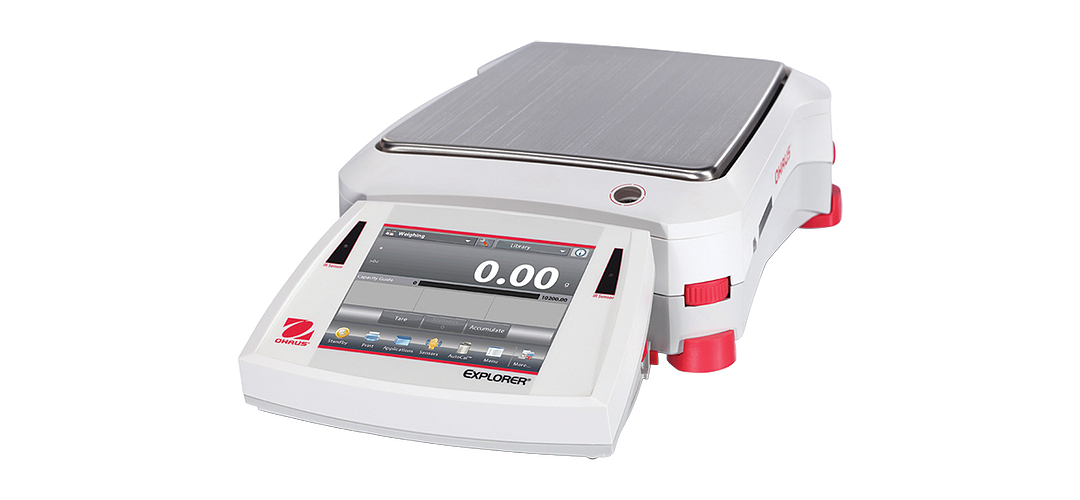 Product Options
Ohaus Explorer Precision Balances, 9,000g - 40,000g
The Ohaus Explorer balance provides the ultimate in a precision balance by combining fast and highly accurate weighing results with intuitive weighing software, touchless user-programmable operation sensors, modular design and auto-cal internal calibration. The Explorer provides a large, angle-adjustable, touch-screen color display, highlighted by icon-driven application software, which provides 14 unique application modes. The Explorer features fast stabilization times and internal or external calibration models. The Explorer is also durable, featuring metal base construction with an ABS top housing, stainless pan, glass draft shield and a replaceable in-use cover.
The Explorer's modular design allows the user to configure the balance in almost any setup needed, with a display that can be separated from the weighing base for detached control from a counter, the wall or tower-mounted. The balance also features an integral weigh-below hook for weigh-below weighing applications. The balance also uses a unique system of four touchless sensors located on the balance, which let you program functions like print, calibration, tare, etc. that can be activated by the wave of your hand.
For additional information about scales and balances, click here.
Accessories