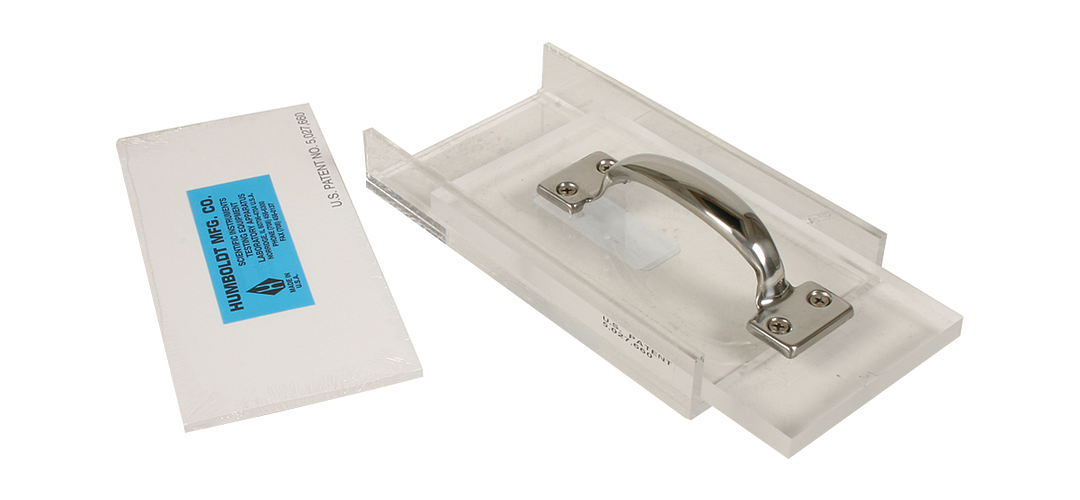 Product Options
Plastic Limit Roller
Supports the following standards: ASTM D4318,
AASHTO T90

,

TX DOT 105-E

Humboldt's Plastic Limit Roller provides an easily repeatable mechanical technique that provides consistent results in accordance to ASTM D4318 and AASHTO T 90 specifications for testing plastic limits of cohesive soils.

The Plastic Limit Roller consists of a rigid acrylic bottom plate with 0.125" (3.2mm) side rails and a top plate of the same material with an integral handle that assists with operation. In operation, soil samples are placed on a sheet of adhesive-backed absorbent paper, which is placed onto the bottom plate of the roller. This paper adds no fiber to the soil samples. Soil samples are then rolled between the top and bottom plates until it comes in contact with the bottom plate's side rails, which prevent further operation.

Includes integral top plate/handle, one pad of 50 sheets of special adhesive backed paper to cover contact surfaces (paper will not introduce fibers into soil samples), and instructions. Rigid acrylic 8 x 4.5 x1.25" (203 x 114 x 32mm).
Accessories
Standards
Standards
AASHTO T90
TX DOT 105-E