Proceq Portable GPR Live GP8000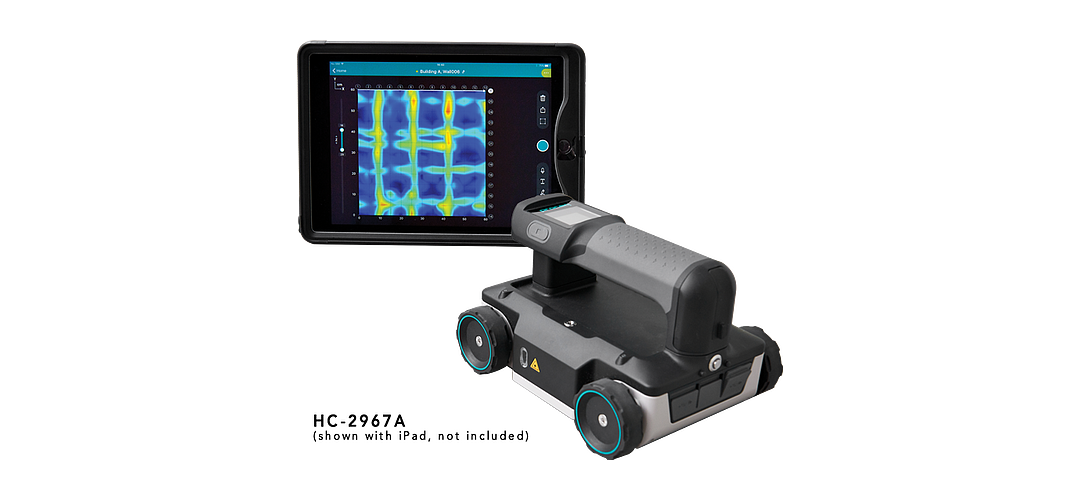 Product Options
Proceq Portable GPR Live GP8000
Supports the following standards:
ASTM D4748

,

ASTM D6087

,

ASTM D6432

,

AASHTO R37-04

,

ACI 228.2R.98

,

EN 302066- ETSI

The Proceq GP8000 portable ground penetrating radar instrument is the beginning of a new era in NDT. The outstanding, patented ultra-wideband technology combined with a compact wireless probe delivers unmatched industry performance. Just connect to your iPad and detect objects and back walls reliably, with amazing clarity and ease of use.

Proceq GP8000 is the world's first large-scale inspection solution that utilizes augmented reality in industrial applications, and is now available on Apple iPad with iOS 12. You can now augment the world around you with 2D and 3D visualizations of GPR data and insights merged seamlessly with your local environment.

Proceq GP8000 ground penetrating radar features the unique stepped-frequency continuous-wave radar technology, which delivers the widest bandwidth in the market and in a handheld device. All applications that have typically been addressed with multiple separate antennas in the range of 0.9 to 3.5 GHz can now be covered with a single device — this means that you do not need to buy and switch to a different antenna for every inspection challenge. Unlike traditional devices with pulsed GPR technology, Proceq GP8000 enables you to detect features of various types and sizes with an unmatched depth penetration.

The powerful, user-friendly Proceq GPR Live app for Apple® iPad, together with the wireless Proceq GP8000 probe, make it possible to perform real-time, on-site data analysis, sharing, and collaboration, like no other product in its category.

The Proceq GPR Live app for Apple® iPad is designed to simplify the entire assessment process of concrete structures. As an example, the integrated wizard assists you with audio feedback during area scans. The intuitive object identification marker is another great feature that makes the life of every operator easier. The Proceq GP8000 probe wirelessly connects to its app for Apple® iPad. Thus, Proceq GPR Live allows instant imaging on a high-resolution touchscreen of up to 12.9" diagonal (iPad Pro) – this makes it the ground penetrating radar inspection solution with the largest and most crisp display in the industry.

The wireless, compact Proceq GP8000 probe is built into a lightweight but highly-durable housing, and ensures reliable, high-quality measurement results even when operated in the most challenging environments. Additionally, the probe operates with standard rechargeable AA batteries to guarantee smooth air travels and easy battery replacements worldwide. Proceq GP8000 Pro delivers a rich set of intuitive features that help you get the job done with peace of mind. It includes a built-in Live Wire kit, cloud-enabled sync and collaboration, export of raw data to SEG-Y, on-site touch-happy visualizations in 2D and 3D, Augmented Reality, and more. The superbly intuitive mobile app is supported by software updates that deliver enhancements and new features. Robust accessories, such as the telescopic rod, are also optionally available.

As a result, Proceq GP8000 is the one true all-in-one handheld GPR, and the most modern and future-proof ground penetrating radar instruments in the world.

*Basic software for the HC-2967A is sold as a one-time purchase. This allows you to own the software and use it with your unit for as long as you like. Pro software requires a 2-year subscription.
Specifications
| | |
| --- | --- |
| Measuring Principle: | Stepped-frequency continuous-wave GPR |
| Frequency Range: | 0.2 to 4.0 GHz |
| Central Frequency: | 2.4 GHz |
| Bandwidth: | 2.85 GHz |
| Maximum Peak Power: | -7 dB EIRP |
| Max. Depth Range: | 28" (70cm) on dry concrete |
| Dimensions: | 8.7" x 7.1" x 5.6"(220 x 180 x 143 mm) |
| Weight: | 4.4 lb (2 kg) |
| Battery: | (8) AA (alkaline or rechargeable) |
| Battery Lifetime: | 3.5 hours of continuous use |
| Display: | Any iPad |
| Operating Temperature: | 14 to 122°F-10 to 50°C |
| Humidity: | <95% RH, non-condensing |
| IP classification: | IP54 |
| Export (Pro only): | Measurement (Proceq GPR Live app file), snapshot (JPG), chart (CSV) |
| Languages: | English, German, Japanese, Chinese, Korean |
| Regional settings: | Imperial/metric units |
Features
| | |
| --- | --- |
| Ultra-Wideband GPR: | Basic & Pro |
| Basic Time-Slice View: | Basic & Pro |
| Pro Time-Slice View: | Pro |
| 3D View: | Pro |
| Data Sharing & Reporting: | Pro |
| Secure Cloud Features: | Pro |
Accessories
Standards
Standards
ASTM D4748
ASTM D6087
ASTM D6432
AASHTO R37-04
ACI 228.2R.98
EN 302066- ETSI