Pressure Aging Vessel (PAV4), 230V 50/60Hz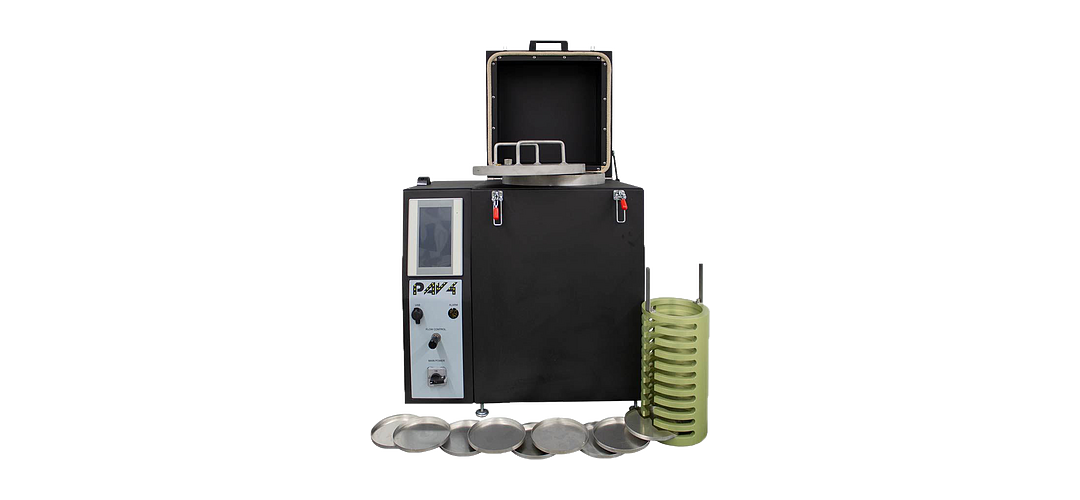 Product Options
Pressure Aging Vessel (PAV4), 230V 50/60Hz
Supports the following standards:
ASTM D6521

,

AASHTO R28-6

,

EN 14769

The new and improved, CE-certified PAV4. The PAV4 is everything you need from the old design, with improved specifications to make it better than ever. Upgraded heating elements allow for a faster recovery time of 30 minutes or less. Updated, enhanced software provides the highest level of efficiency and reliability. The voltage range has changed as well. With a 208-240 capacity, This range of power allows the PAV4 to be operated in more labs than ever before.

The H-1640C.4F PAV4 features a compact, benchtop design with integral ASME code section VIII, division 1; 1992 A 93 pressure vessel controlled using a 7", full-color, touch-screen display, which is tilted for greater visibility. Operating pressure is 2.1mPa (304psi). Temperature is 80 to 115°C (176 to 239°F) and programmable from 50 to 150°C (122 to 302°F). Between 80 to 115°C (176 to 239°F) the tolerance is well within ±0.1°C. Temperature uniformity is ±0.5°C. Pressurization is programmable from 1 hour to 99 hours. This enables AASHTO R28, ASTM D5621, and EN 14769 specifications to be met without any special programming and also enables greater freedom for research and development projects. Real-time graphs are visible from the touch-screen controller while the unit's network-ready modem enables the PAV4 to be controlled from PCs and mobile devices when connected to a network.
CE Certified
Improved recovery time of 30 minutes or less
Platinum RTD temperature measurement
Rugged, powder coated, black exterior
Industrial strength touchscreen display and enhanced software
Data acquisition features include time, temperature, and pressure
USB Port on the front of the unit makes data downloads and software upgrades easy
Includes 10 AASHTO T 179 specimen pans and a solid, precision anodized aluminum specimen holder
Optional battery backup system prevents test interruption or data loss due to power failure or line voltage fluctuations
Languages options include English, German, French, Italian, Chinese, Spanish, and Arabic
Data acquisition of temperature, pressure, and time is collected throughout the aging process. Once the aging process is complete, a .csv file can be created and saved via the USB port on the front of the PAV4. Once the .csv file has been created, it can easily be viewed and manipulated in Microsoft Excel or other spreadsheet programs.
The PAV4 sample holder is a one-piece, solid device requiring no assembly and is easy to achieve an accurate level position with the leveling ring in the vessel. There is also room for a small bubble level between slots for verification purposes.
The PAV4 includes a network-ready modem, which provides connection to the internet, permitting the user to access the PAV3 with a mobile device or PC using a VNC viewer app program. VNC connection enables the user to connect, monitor, and control the PAV4 from a remote location. The PAV3 can be programmed with a custom IP address, so the number of PAV4s on a single network is essentially endless.
Specifications
| | |
| --- | --- |
| Pressure Rating: | 2.1mPa (304psi) |
| Sample Capacity: | 10 TFOT sample trays (included) |
| Resolution: | 0.1°C |
| Temperature Range: | 80°C—115°C; Programmable from 50°C—150°C |
| Electrical: | 208–240V/50–60Hz |
| Product Dimensions: | 27.5" x 18" x 30" (700 x 460 x 760mm), WxDxH |
| Net Weight: | 290 lbs. (130 kg) |
Accessories
Standards
Standards
ASTM D6521
AASHTO R28-6
EN 14769