Pundit 250 Array, Rapid Ultrasonic Pulse Echoing Imaging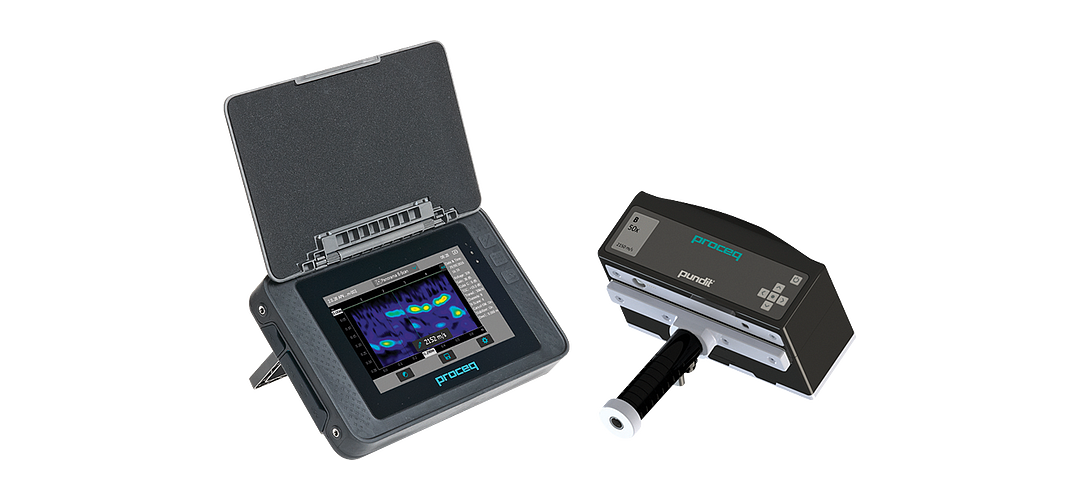 Product Options
Pundit 250 Array, Rapid Ultrasonic Pulse Echoing Imaging
The Pundit 250 Array is a rapid ultrasonic pulse echoing imaging scanner that can be used for deep scanning of concrete and fiber-reinforced concrete. It can be used for thickness measurements of thick concrete and tunnel linings; determining localized defects such as voids, honeycombing and depth and extent of delaminations and the detection of objects in the concrete such as pipes and tendon ducts beyond the rebar layer.
The Pundit 250 Array is based on the ultrasonic multi-channel pulse echo technology using 8 channels. One channel transmits and the echoes are received by the other seven channels. Each channel transmits in turn. A complete measurement consists of 56 A-scans. These are used to compute and display a B-scan in real-time using the Synthetic Aperture Focusing Technique (SAFT). Coupling two transducers results in a 16 channel aperture processing a total of 240 A-scans per measurement cycle.
The 250 Array provides high-resolution scanning with high-quality images of defects, rebar and tendon ducts with superior near-field performance. No couplant is required due to the dry point contact technology. The Pundit Array includes a clear rear display for status information and immediate feedback of readings, an integrated laser for guided measurements and a removable battery pack with rechargeable AA batteries. The unit is extremely flexible, allowing single-handed positioning, as well as double-handed positioning for increased control. Upgradeable to 16 channels, which doubles the scan width.
The Pundit 250 Array consists of: Pundit Touchscreen, Pundit Array transducer, Pundit 250 Array software, Pundit Array Cable 12-pin 1.5m, Pundit Array contact tester, 6x Rechargeable AA NiMH batteries, power supply, USB cable, calibrated tape, DVD with software, documentation, carrying strap and carrying case.
Specifications
| | |
| --- | --- |
| Gain: | 0 to 80dB |
| Analog Bandwidth: | 15 to 100kHz |
| Range: | 0 to 1000µs |
| Resolution: | 1µs |
| Pulse Voltage: | ± 150V |
| Pulse Shape: | Rectangle |
| PRF: | 8 to 200ms |
| Operating Time: | 7 Hr (min.) |
| Number of Channels: | 8 |
Accessories