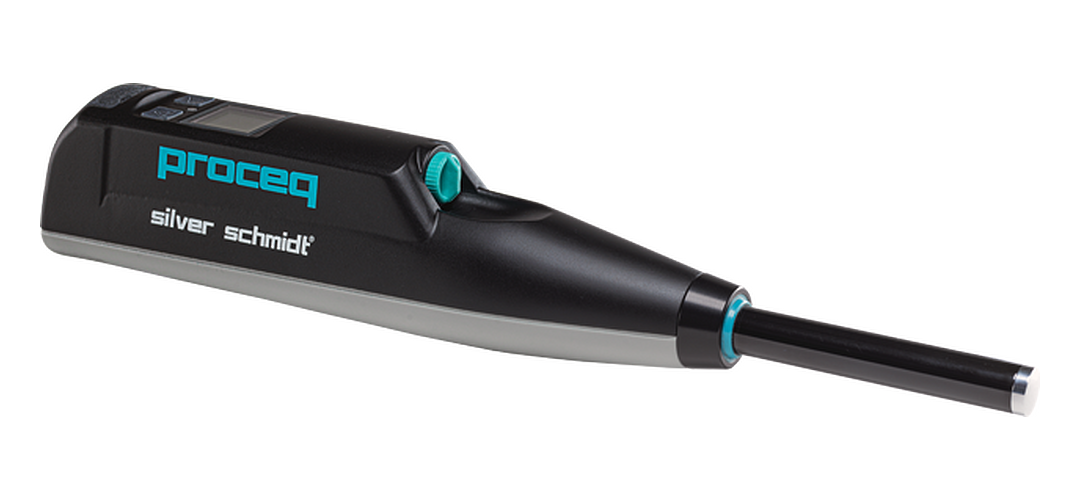 Product Options
Silver Schmidt OS8200
Supports the following standards: ASTM C805, ASTM D5873,
BS 1881: PART 202;

,

ISOIDIS8045

,

ENV 206

,

IGJ/T 23-2001

Silver Schmidt OS8200 is as accurate, reliable, and versatile as ever—and now, connected, thanks to its optical measurement technology delivering Q-value measurements, paired with digital productivity features and user-friendly mobile apps. The Proceq SilverSchmidt OS8200 test hammer has been redesigned to provide unmatched accuracy, repeatability and easy, intuitive operation. The Schmidt OS8200 features quicker and more accurate testing while addressing the previous insufficiencies of the traditional hammers. With the Schmidt OS8200 impact direction no longer has an impact on values; values are not affected by internal friction of the hammer operation, and, loss of accuracy because of seal problems is not an issue.

In use, the Silver Schmidt OS8200 eliminates cocking the hammer for each blow and recording the results, the OS8200 allows you to do all your test blows in rapid succession, while it records the results. These results can then be reviewed. Intuitive User Interface is language independent through the use of easy-to-understand icons.

The interface menu structure is similar to a mobile phone's. Practically every command can be activated either directly or via no more than 2 consecutive steps. All data is automatically saved and may be reviewed via the data list. The memory capacity is dependent of the length of tests in a series, but roughly 400 series with 10 readings each can be accomplished with the Silver Schmidt.

A free mobile App is available, which functions via bluetooth technology on any compatible Apple® iOS device (please see App Store for details) or any supported Android™ device (see Google Play Store for details). The Silver Schmidt hammer includes these standard accessories: battery charger with USB cable, data carrier with software, carrying strap, grinding stone, chalk, documentation and carrying bag. Software provided for performing firmware upgrades and selecting presets only.
Accessories
Replacement Parts
Standards
Standards
BS 1881: PART 202;
ISOIDIS8045
ENV 206
IGJ/T 23-2001