Specimen Grinding Machine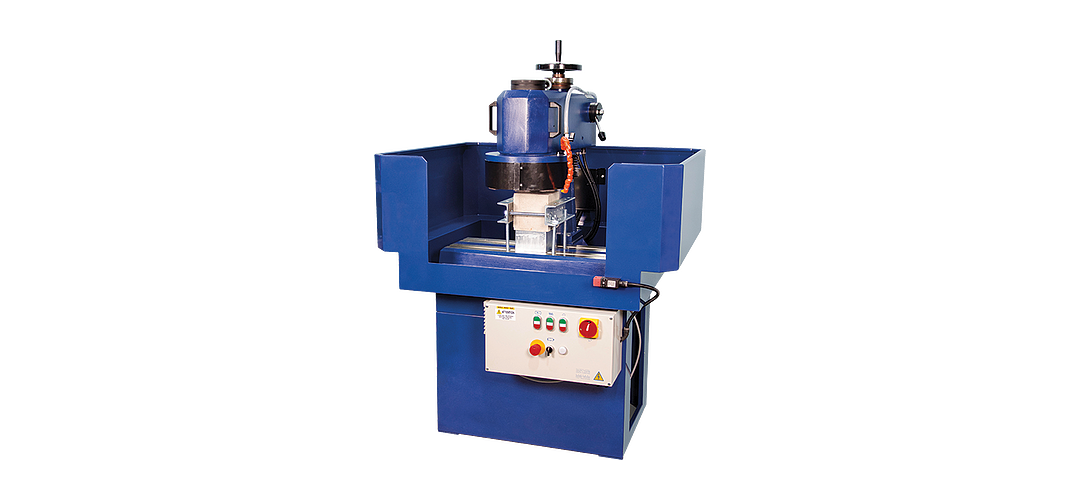 Product Options
Specimen Grinding Machine
This automatic grinding machine is designed to grind and polish concrete cubes, cylinders, blocks, natural stones, rocks and ceramic materials. Specimens are easily fixed to the table with the use of the proper locking stirrups. See chart for specimen types and sizes.
This unit features a grinding head is equipped with an end-of-stroke system, which allows full automatic displacement in both directions without activating the electric pushbutton. This unit is designed for the simultaneous grinding of varied types of specimens, including concrete cube, cylinders, blocks and rock. It offers the motorized radial displacement of the abrasive head in both directions.
The revolving abrasive head is radially and alternatively moved in both directions through an electric motor actuated by push button. The column is completely protected against abrasive dust. The grinding head can be lowered vertically in 0.05mm graduations by using the top hand wheel. The machine is made from rugged plate and is supplied complete with: control panel; coolant/decantation tank for water and emulsifying oil; motor pump; set of standard abrasive sectors; safety chip guard that automatically stops the machine if it is removed. Both models are 3-Phase electric.
Models:
HC-2979.2F.3 — 220V 60Hz 3-Phase
HC-2979.5F.3 — 220V 50Hz 3-Phase
NOTE: HC-2979 Grinding Machine includes Standard Abrasive Grinding Sections, but require the separate purchase of specimen locking devices, not included. Choose between the Fast Locking Device or the appropriate Locking Stirrups for your operation..
Specifications
| | |
| --- | --- |
| Specimen Sizes: | 6" x 12" (152 x 305mm) cylinder, 4" x 8" (102 x 203mm)cylinder, 3" x 6" (75 x 150mm) cylinder, 6" Cubes, 100mm, 150mm, 200mm Cubes, 390 x 250mm Block |
| Table Dims: | 30.5" x 11.0" (775 x 280mm) |
| Head Stroke: | 8.5" (215mm) |
| Wheel Dia.: | 13" (330mm) |
| Wheel Speed: | 1400rpm |
| Power Supply: | 220V, 3ph 4500W |
| Dimensions: | 40" (1000mm) |
| Ship weight: | 904 lbs (410kg) |
Accessories