Thermometer, "Supra" Precision Pt100 Platinum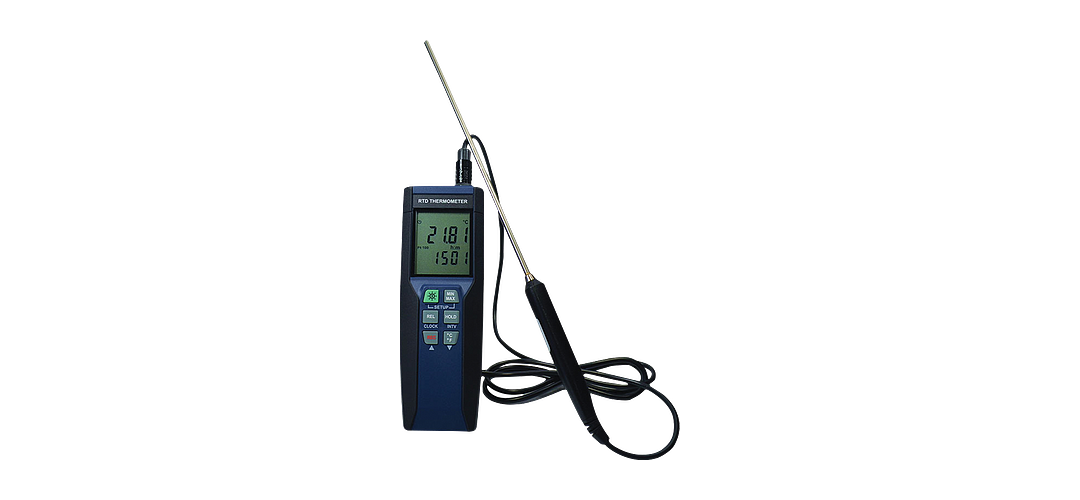 Product Options
Thermometer, "Supra" Precision Pt100 Platinum
The HT-4505 & HT-4506 are very accurate temperature measuring systems. With the accuracy of 0.1 °C and resolution of 0.01°C, these thermometers will ful-fill the most critical measuring requirements in your lab. Both units include a Platinum temperature-measurement resistor (Pt 100/4-line type) 9" probe with 5" handle and 24" cable. Both units also provide a dual-display; data-hold function; max/min function; auto-lock connector and a large backlight LCD display.
The standard CT375DIG model includes: a Precision Pt-100 Probe, 9V Battery, Instruction Manual and Carry Case. The CT376DIG data logger model includes these same items, plus Windows software and a USB cable.
Specifications
Type:
Pt100 RTD Platinum Precision, hand-held thermometer
Features:
CT-3705DIG — w/memory, CT-3706DIG — w/data logger, Auto-lock connector, Max./Min. dual-display, data hold, power off
Probe:
Includes Pt100 Probe
Range:
-148 to 752°F (-100 to 400°C)
Resolution:
0.02°F, (0.01°C)
Accuracy
(Type K):
±0.05% reading + .02°F (±0.05% reading + .01°C)
Power:
9v battery
Traceable Certificate:
NIST Traceable Certificate available, please inquire.
Accessories