Load Frame UPGRADE for, Elite Series Master Loader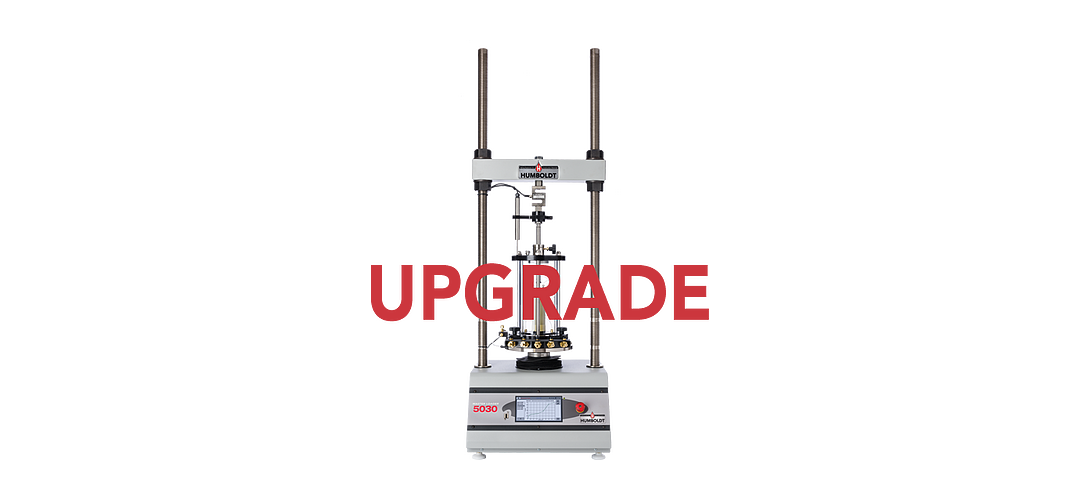 Product Options
Load Frame UPGRADE for, Elite Series Master Loader
Now you can upgrade your old HM-3000.3F Master Loader to the New HM-5030.3F Elite Series Master Loader. Upgrade requires you to ship back your current machine, which will be altered to create a new HM-5030.3F Elite Series Master Loader.
Designed for applications requiring multi-purpose loading systems, such as road construction projects in either mobile or fixed labs, educational institutions and consulting firms, the HM-5030 Master Loader is ideal for just about any application from road construction to high-volume commercial and educational laboratories.
While the HM-5030 has been specifically designed for soil testing labs conducting multiple testing operations including: UU, CU and CD triaxial, UC, CBR and LBR, it is also perfect for running Marshall, Hveem, TSR and SCB asphalt tests as well. Its heavy-duty design and precise stepper-motor control provide a stable platform for years of reliable service allowing the HM-5030 to perform any tests required up to its load capacity of 11000 lbf (50kN).
Like all elite series load frames, the HM-5030 is built around Humboldt's integral, 4-channel data logger with touch-screen control, which allows the load frame to be used as a standalone device capable of full test control and data logging. It can also be controlled by a networked computer at any location with access to the network.
The HM-5030 provides four (4) integral and independent data acquisition channels, which can be utilized in stand-alone configurations or accessed through a LAN-networked computer using Humboldt's Next Software.The HM-5030 load frame is built with durable, high-quality components and features the use of a stepper motor, precision gears and gear box to ensure smooth and reliable operation, as well as precise results.
In stand-alone mode, the HM-5030 load frame provides a 7" (178mm) touch-screen controller, giving you finger-tip control of your testing processes, as well as providing real-time, visual views of your data in both tabular and graphic formats. This waterproof, touch screen provides colorful, at-a-glance monitoring of testing functions without the use of a computer. Operators can see all the data in several formats at the machine while the test is running. Data can then be viewed simultaneously or downloaded later to a computer in the lab, in the next room or at a different location, while also providing report generation capabilities from within Humboldt's NEXT software or our enhanced test-specific modules.
Touch-Screen Controller provides:
4-channel data acquisition
Hi-res, 7", waterproof, touch-screen provides total control and real-time graphical display of tests
Machine /Test control and data acquisition via touch-screen
Control up to 4 different tests at the same time
Calibration of channels to load cells, transducers and other suitable instruments
Real-time graphical chart and numerical display of tests via touch-screen display
Effective sampling rate of 50 readings per second
Stores up to 1000 tests with 3000 points per test
2 USB ports. One in front for data transfer and the rear port is for powering a wireless access point.
When operated from a networked computer the NEXT software provides robust machine and test control, as well as report generation. It also provides the ability to control and monitor multiple machines from a single computer.
Humboldt's NEXT software provides:
Machine control, and data acquisition via networked computer
Provides the ability to use Next Software's, advanced test-specific modules
Real-time graphical chart and numerical display of tests via computer display
Effective sampling rate of 50 readings per second
Stores unlimited tests with up to 3000 points per test.
Up to 255 individual tests can be run simultaneously from a single PC
Advanced, test-specific modules are available, which provide all the calculations and graphs required per testing standards
Provides advanced graphing capabilities
Provides full-unit customization
Reports can also be exported to Excel or a CSV file, if desired, and, we can provide custom integration/export solutions for LIMS, EQuIS, gINT, etc.
For additional information about the Elite Series Load Frames, click here.