Elite Series UPGRADE for Pneumatic, Semi-Automatic Direct/Residual Shear Apparatus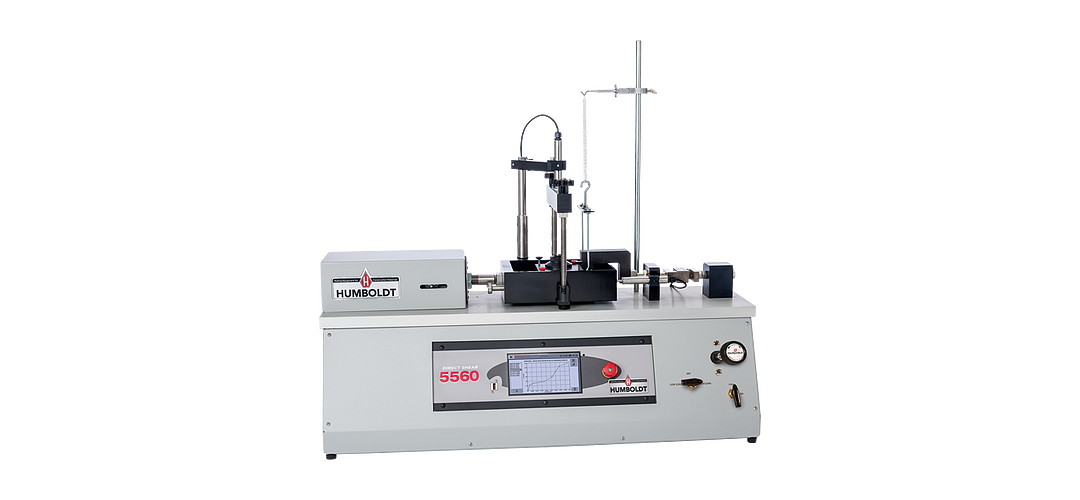 Product Options
Elite Series UPGRADE for Pneumatic, Semi-Automatic Direct/Residual Shear Apparatus
Now you can upgrade your old HM-2560.3F Direct Shear Machine to the New HM-5560.3F. Upgrade requires you to ship back your current machine, which will be altered to create a new HM-5560.3F.3F Direct Shear machine.
The HM-5560 is a semi-automatic pneumatic loading machine, which with its touch-screen monitor provides test control and live test monitoring in either a stand-alone or computer-controlled configuration. With the HM-5560, pneumatic loads are controlled by manual valve controls located on the front panel for easy use. The HM-5560 also provides four (4) integral and independent data acquisition channels, which can be utilized in stand-alone configurations or accessed through a LAN-networked computer using Humboldt's Next Software.
In stand-alone mode, the HM-5560 direct shear machine provides a 7" (178mm) touch-screen controller, giving you finger-tip control of your testing processes, as well as providing real-time, visual views of your data in both tabular and graphic formats. These new waterproof, touch screens provide colorful, at-a-glance monitoring of testing functions without the use of a computer. Operators can see all the data in several formats at the machine while the test is running. Data can then be viewed simultaneously or downloaded later to a computer in the lab, in the next room or at a different location, while also providing report generation capabilities from within Humboldt's NEXT software or our enhanced HM-5700SW Direct Shear software module.
When operated from a networked computer the NEXT software provides robust machine and test control, and report generation. It also allows the ability to control and monitor multiple machines from a single computer.
The HM-5560 is supplied complete with a 2,000 lbf (10kN) capacity load cell; 1" (25.4mm) horizontal strain transducer, a 0.4" (10.2mm) vertical strain transducer and Humboldt's NEXT software. Shear box assemblies, Humboldt's NEXT Direct Shear module and related accessories are not included and should be ordered separately.