Zircon MT 7 Rebar Locator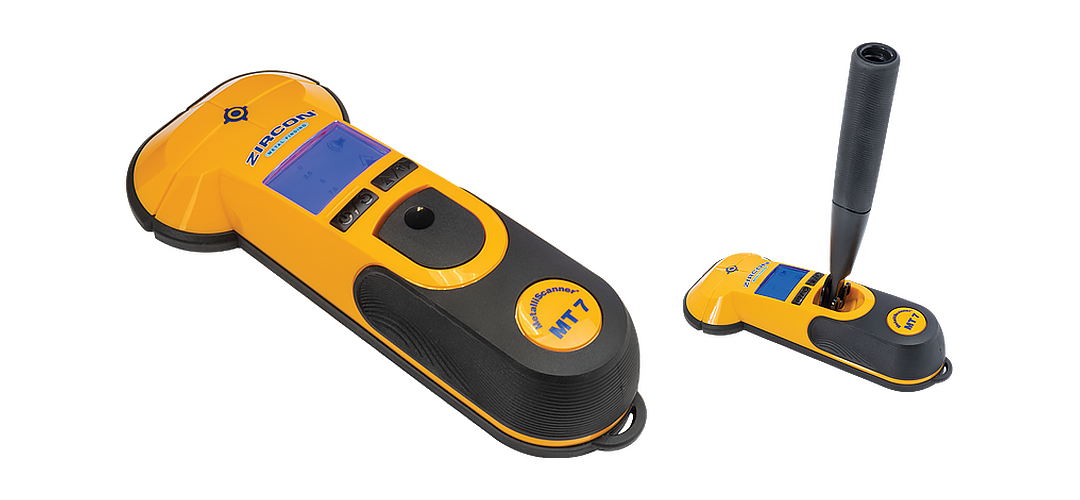 Product Options
Zircon MT 7 Rebar Locator
Supports the following standards:
ACI 318

,

BS 1881 PART 204

MetalliScanner® MT 7 metal detector quickly and easily locates rebar, pipes, and other metal before you saw or drill. The bright, backlit display indicates metal target depth (inches and centimeters) up to 6 in. deep, type of metal located (ferrous or non-ferrous), and whether you are moving towards or away from a target. Use to find and avoid rebar in concrete before drilling, to find pipes and junction boxes behind tile, and even detect the nails/tacks in studs behind lath and plaster walls. This powerful tool saves time and money by eliminating guesswork, rework, needless holes, and costly broken drill bits or saw blades. Recommended uses include locating and reinforcing rebar in masonry and measuring subsurface nail spacing in roofing material for compliance with building codes.
Features two scanning modes: Standard mode and DeepScan mode
Locates and determines the depth of 1/2" rebar and 1/2" copper pipe up to 6". (15cm) deep
Finds and differentiates ferrous and non-ferrous metal
Position accuracy to within ± 1/2" (13mm) for #4 rebar or 1/2" copper pipe
Backlit display and audio tone clearly indicate location of target
Pivoting handle attachment for extended and overhead reach can be used with standard threaded broom handle, etc.
Rubberized handle and built-in lanyard loop
Includes 9V battery and protective carrying case.
Standards
Standards
ACI 318
BS 1881 PART 204