Adam Eclipse Precision Balances 9,000 - 40,000g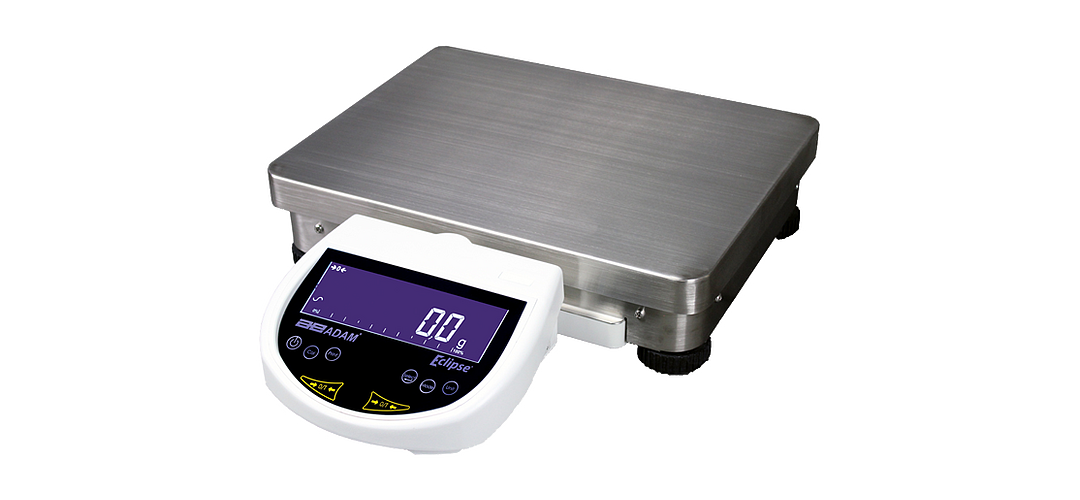 Product Options
Adam Eclipse Precision Balances 9,000 - 40,000g
Eclipse high-capacity balances offer a range of models that deliver a precision readability of 0.1g. With a full spectrum of advanced features, the Eclipse series of precision and analytical balances provides unparalleled performance. Its elegant capacitive touch keypad and large display bring a balance of e ciency, durability, and intuitive operation to any laboratory.
Every Eclipse is out tted with an elegant capacitive touch keypad containing colour-coded keys, which enable uncomplicated navigation of the functions and features. Operating with a feather-light touch, the keys respond readily, even while wearing latex-gloves. The keypad's smooth surface allows ngerprints to be wiped o easily. Illuminated keys guide users through tasks, highlighting available options.
Featuring one of the largest LCD readouts in the industry, the Eclipse displays sizeable white digits on a deep-blue background, ensuring ultimate visibility. A second line shows text prompts, instructions and any other relevant information. Clear, discernable symbols and multi- lingual text make operation easy, while prompts simplify even the most complex activities.
The Eclipse achieves connectivity with precision and speed, whether it's basic data printing or advanced communication with a Laboratory Information Management System. Printouts with time, date, and other information are provided to comply with GLP requirements. USB and RS-232 interfaces optimise connections, while a third interface allows use of an optional remote display.
Standards