BW/Moisture Non-Invasive Meter Kit with BluePeg Sensor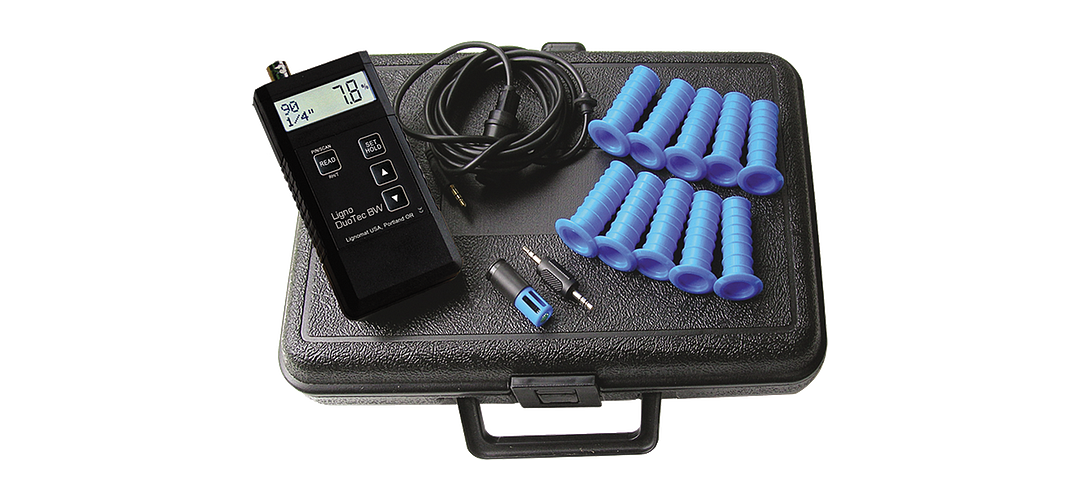 Product Options
BW/Moisture Non-Invasive Meter Kit with BluePeg Sensor
Supports the following standards: ASTM F2170,
ASTM F2659
The HC-3001 is a non-invasive moisture meter with dual-depth measuring capabilities. The RH BluePeg Probe can be added to use as a Thermo-Hygrometer or for RH in-situ probe testing of concrete following the latest ASTM F2170 standard. The HC-3001's unique dual-depth pinless moisture meters allows the user to have more versatility. Two moisture meters in one. Great for thinner and thicker boards, engineered floor planks, and waterborne finishes.
Wood in Scan Mode: the HC-3001 gives wood moisture readings in percent. Corrections are built-in for a measuring depth of 1/4" and for 3/4" for each wood species setting (specific gravitiy 0.3 to 1.0). Included are 7 different settings for bamboo.
Building Materials in Scan Mode: the HC-3001 gives moisture content in percent for drywall. For concrete and light-weight building materials comparative readings can be taken to evaluate moisture conditions and find wet spots. 1/4" and 3/4" measuring depth are available. Conforms to ASTM 2659.
Air in RH Mode: Add RH BluePeg Probe for ambient relative humidity and temperature, GPP and DPT.
Use meter as Thermo-Hygrometer.
Concrete in RH Mode: Add RH BluePeg Probes and RH accessories for in-situ moisture testing of concrete.
Conforms to ASTM F2170.
Scan Mode Properties:
Resolution: 0.1% for entire measuring range
Measuring Depth: 1/4 or 3/4" deep (7mm and 20 mm)
Reference Scale: 0-99 for non-wood building materials, 0-99 for concrete, 0.4-2.0 for gypsum
RH Mode Properties:
RH Range: 0-99%, Temp: 0 to 200 degrees F or -15 to 95 degrees C.
Accessories