Relative Humidity Moisture Meter Kit with BluePeg Sensor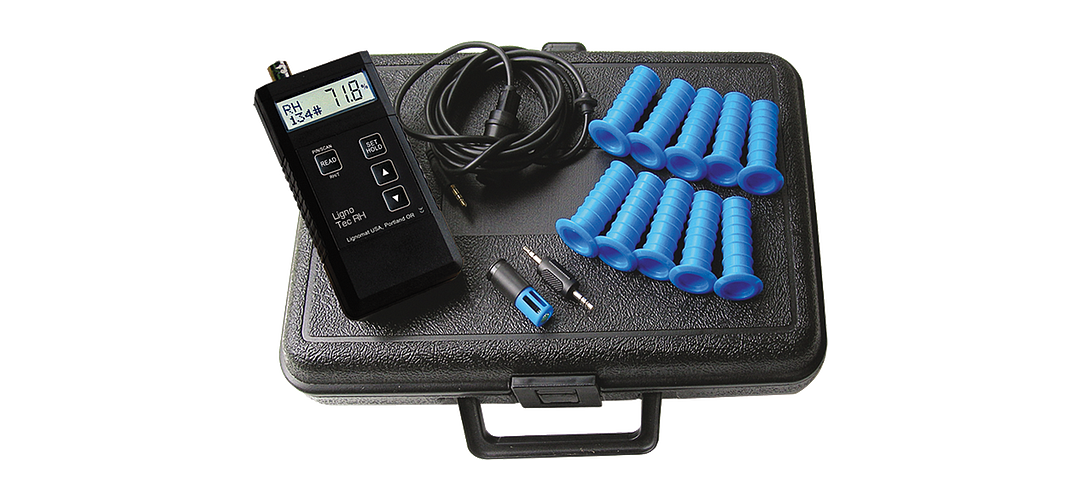 Product Options
Relative Humidity Moisture Meter Kit with BluePeg Sensor
Supports the following standards: ASTM F2170
The HC-3000 concrete moisture meter for contractors, floor covering installers and restoration specialists to use as a Thermo-Hygrometer or for in-depth moisture testing of concrete following ASTM F2170-11 RH in-situ probe test. Moisture meter indicates relative humidity, temperature, GPP and DPT.
If you are looking for an accurate Hygrometer, the HC-3000 concrete moisture meter with RH BluePeg probe should be your choice. The RH BluePeg probe uses a hi-accuracy sensor with a short acclimation time. The RH BluePeg probe can be connected with a small Adapter directly to the meter. For extended reach, a cable up to 50ft long can be added. All cables have easy-to-connect and fail-proof 35mm stereo connectors.
The RH BluePeg Probe, sleeves, cable and RH concrete moisture meter have been designed for a simple and fail-proof measuring procedure. The RH BluePeg probe drops easily into the sleeve. The cap fits perfectly and is as flat as can be. The 3.5mm stereo connector can be easily connected. No pin alignment of the cable needs to be fitted. Plug in and read, that's what our customers like.
RH Mode Properties:
RH Range: 0-99%, Temp: 0 to 200 degrees F or -15 to 95 degrees C.
Accessories