High-Performance 3000 / 4000 / 5000 / 6000kN Computer-Controlled Compression Machines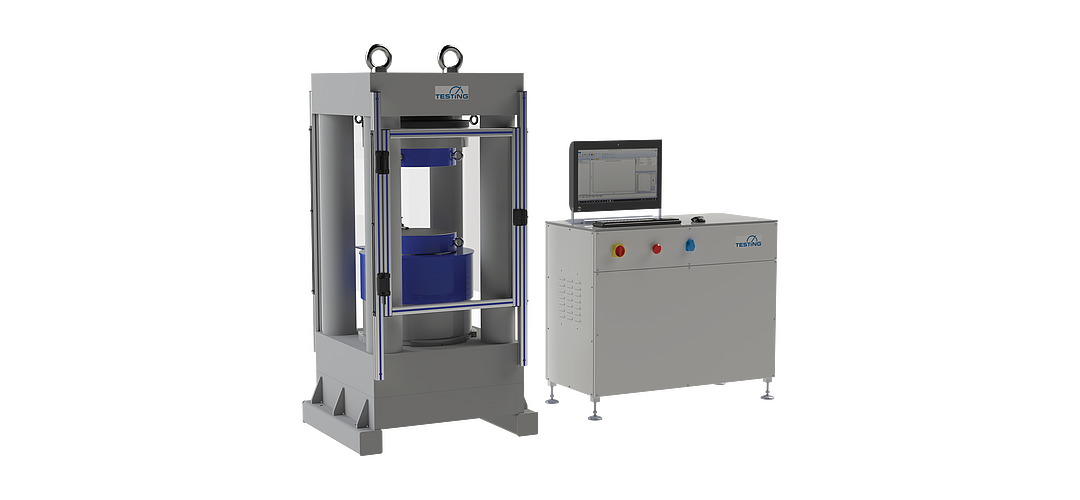 Product Options
High-Performance 3000 / 4000 / 5000 / 6000kN Computer-Controlled Compression Machines
Supports the following standards: ASTM C39,
AASHTO T22; DIN EN 12390-3

,

DIN EN 12504-1

,

DIN EN 12390-6

,

EN 12390-13

,

EN 206

Compression testing machines for compressive strength testing of light, normal and heavy concrete, as well as ultra-high performance concrete (UHPC), according to DIN EN 7500-1 and EN 12390-4 in a very wide measuring range class 1.
Extremely solid and stiff 4-column frame
Large area test chamber protection made of polycarbonate, protects against specimen splinters caused by explosion fractures
High-quality servo valve for pressure or volume flow control
Powerful hydraulic unit
Fast lift and bypass function for time-saving positioning of the test cylinder
DOLI EDCi Control electronics fully-automatic test procedures suitable for force, displacementor deformation controlled tests with predefined loading speeds
Automatic break detection and free adjustable test end conditions
Readout and export of measurement data
Test Frame
Test frame with hydraulic cylinder for compression strength test in strain gauged column according to DIN EN 12390-4 and class 1 according to DIN EN 7500-1 in the specified measuring range. In the basic configuration, the framework is designed for force-controlled tests, whereby the force value is determined via a strain gauge pressure sensor. Optionally a position measuring system can be installed. The massive steel frame is extremely stiff, the columns are tensioned without any play. The hydraulic cylinder is made from solid material and is attached utilizing an external clamp holder. The end position is monitored by a mechanical limit switch.
Samples:
Cubes (edge length): 200, 150, 100mm (auxiliary platens required)
Cylinders (height) 320, 300, 200mm
Devices (height) up to 330mm e.g. splitting tensile.
Other samples possible.
Safety: The test frame with a control cabinet fulfills all requirements according to DIN EN 12390-4 and DIN EN ISO 7500-1.
The complete machine is delivered with an EC declaration of conformity and operating instructions according to the Machinery Directive 2006/42 / EG. Large area of the testing machine is equipped with an impact-resistant, transparent test room protection made of polycarbonate. The position of the protective door is monitored with a tamper-proof, 2-channel security hinge. When the door is open, the hydraulic unit is redundantly depressurized.
Control Cabinet SV-EDCi
Control cabinet with main switch incl. under-voltage release and emergency stop switch, as well as a Schuko plug on the front panel. Electrical Connection: 1~240V, 50/60Hz, 3~480V, 50/60Hz.
Hydraulic System
The powerful hydraulic unit with oil tank incl. all necessary safety, control and directional valves according to DIN 4413. It generates a maximum system pressure of 350 bar A fine 3µm pressure filter in the pressure line is filtering the hydraulic oil and protecting the system components. Incl. filter pollution, oil level and temp switch (70 ° C) The hydraulic unit is inside of the control cabinet providing low noise operation <68 dB (A). A high-quality servo valve or variable-frequency drive for pressure or volume flow control enables the most precise force and stroke control (closed-loop control). An additional low-pressure pump for the quick stroke function and an oil-air cooler (for long test scenarios).
Measuring and Control Electronics
A Doli EDCi controller is used for universal digital measuring and control electronics for these testing machines. This is installed in the control cabinet and can optionally be operated with a remote control. The control electronics enables a fully automatic test execution with given loading speeds for force-controlled tests (position and strain controlled tests optional). With sensitive and adjustable break detection, the failure of the sample is detected early. Communication to the PC: Ethernet socket / USB 2.0 configurationRemote maintenance via TeamViewer function (PC required).
Technical Data EDCi
Expansion option: min. 2 channels
Supply voltage + 24 VDC, 1.5 A
Control output ± 10V A / B
Pulse train to control the subsequent electronics
Automatic sensor detection by intelligent sensor connector
SGS Calibration data is saved in the sensor plugs
Specifications
HCM-3100
| | |
| --- | --- |
| Capacity | 674,426 lbf (3000kN) |
| Force Measuring Range, Class 1 | 13488 - 674426 lbf (60 – 3000 kN) |
| Stroke | 3.93" (100mm) |
| Chamber Height | 12.4" (315mm) |
| Column Spacing Front | 14.17" (360mm) |
| Column Spacing Side | 10.63" (270mm) |
| Platen Dimensions | 12.6" (Ø320mm) |
| Frame Dimensions | 29.5" x 26" x 62.2" (750 x 660 x 1580 mm) |
| Control Cabinet Dimensions | 47.25" x 22.45" x 41" (1200 x 570 x 1040 mm) |
HCM-4100
| | |
| --- | --- |
| Capacity | 899,235 lbf (4000kN) |
| Force Measuring Range, Class 1 | 17984- 899235 lbf (80 – 4000 kN) |
| Stroke | 3.93" (100mm) |
| Chamber Height | 13.39" (340mm) |
| Column Spacing Front | 17.72" (450mm) |
| Column Spacing Side | 17.72" (450mm) |
| Platen Dimensions | 16.34" (Ø415mm) |
| Frame Dimensions | 36.6" x 33.9" x 77.2" (930 x 860 x 1960 mm) |
| Control Cabinet Dimensions | 47.25" x 22.45" x 41"(1200 x 570 x 1040 mm) |
HCM-5100
| | |
| --- | --- |
| Capacity | 1,124,044 lbf (5000kN) |
| Force Measuring Range, Class 1 | 22481- 1,124,044 lbf (100 – 5000 kN) |
| Stroke | 3.93" (100mm) |
| Chamber Height | 13.39" (340mm) |
| Column Spacing Front | 17.72" (450mm) |
| Column Spacing Side | 17.72" (450mm) |
| Platen Dimensions | 16.34" (Ø415mm) |
| Frame Dimensions | 39" x 36.2" x 79.1" (990 x 920 x 2010 mm) |
| Control Cabinet Dimensions | 47.25" x 22.45" x 41"(1200 x 570 x 1040 mm) |
HCM-6100
Capacity
1,348,854 lbf (6000kN)
Force Measuring Range, Class 1
26977 - 1,348,854 lbf (120 – 6000 kN)
Stroke
3.93" (100mm)
Chamber Height
13.39" (340mm)
Column Spacing Front
21.85" (555mm)
Column Spacing Side
17.72" (450mm)
Platen Dimensions
16.34" (Ø415mm)
Frame Dimensions
39.4" x 35.4" x 66.9" (1000 x 900 x 1700 mm)
Control Cabinet Dimensions
47.25" x 22.45" x 41"(1200 x 570 x 1040 mm)
Accessories
Standards
Standards
AASHTO T22; DIN EN 12390-3
DIN EN 12504-1
DIN EN 12390-6
EN 12390-13
EN 206