Automated, Hydro-Control Pressure Controller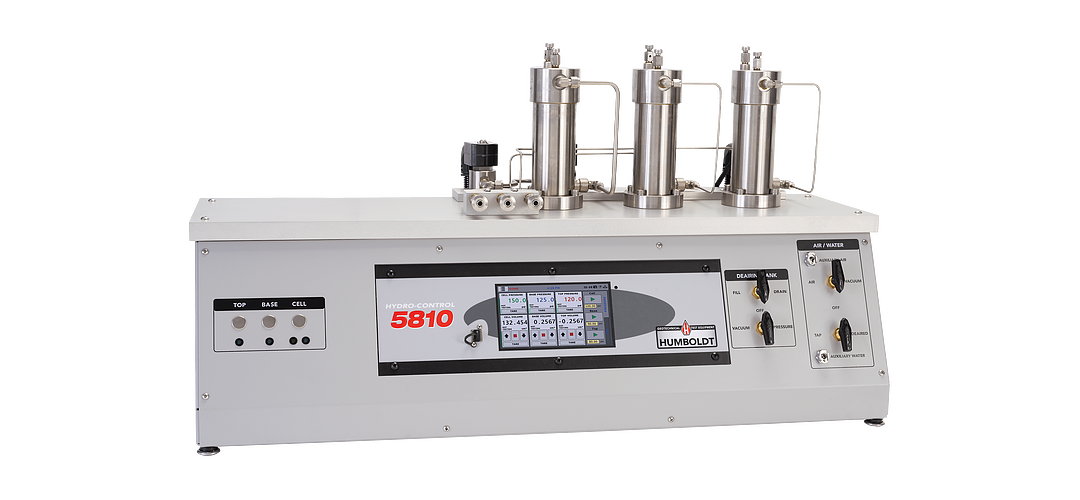 Product Options
Automated, Hydro-Control Pressure Controller
The HM-5810 is an automated three-channel pressure controller designed to handle saturation, consolidation and permeation of a triaxial test sample. In this application it can be used solely for permeability testing as well, eliminating the need for distribution panels, etc. The HM-5810 is all you need to successfully do permeability testing for soil.
Cell, head and tail pressure can be set in increments of 0.1 PSI while volume change is measured to 0.0001cc. The flow rate for permeation can be set from 1 cc/sec (60 cc/min) down to less than 0.000002 cc/sec (0.00012 cc/min). There are three data input channels – one for each pressure transducer, or if you are only doing permeability, you will only need one of the channels/pressure transducers.
The HM-5810 provides an accurate and simplified permeability setup, which eliminates the need for separate distribution panels, and simplifying tubing and control cable setup. By using the integral staging platform, the HM-5810 provides an extremely compact and organized setup.
The HM-5810 is built around Humboldt's integral, data logger with touch-screen control, which allows the HM-5810 to be used as a standalone device capable of full test control and data logging. It can also be controlled by a networked computer at any location with access to the network.
Standalone Mode
In stand-alone mode, the HM-5810 Pressure Controller provides a 7" (178mm) touch-screen controller, giving you finger-tip control of your testing processes, as well as providing real-time, visual views of your data in both tabular and graphic formats. The waterproof, touch screen provides colorful, at-a-glance monitoring of testing functions without the use of a computer. Operators can see all the data in several formats at the machine while the test is running. Data can then be viewed simultaneously from a computer or downloaded later to a computer in the lab, in the next room or at a different location, while also providing report generation capabilities from within Humboldt's NEXT software or our enhanced HM-5007SW Permeability Software Module.
Computer Control
When operated from a networked computer the NEXT software provides robust machine and test control, and report generation. It also provides the ability to control and monitor multiple machines from a single computer.
NEXT software and the enhanced Permeability module, HM-5007SW provides robust machine control, calibration, data acquisition and report generation for those who want to use a computer to control permeability testing operations.
NOTE: Permeability cells and related accessories are not included and should be ordered separately.
Specifications
| | |
| --- | --- |
| HM-5810.3F: | |
| Maximum Hydraulic Pressure: | 0-500 psi (3500kpa) or 0-150 psi (1034kpa) |
| Volumetric Capacity: | 250mL/channel |
| Load Capacity: | 3000lbf (15kN) |
| Dimensions (L x D x H): | 38" x 15" x 20.5" (970 x 385 x 520 mm) |
| Voltage: | 110/220V 50/60Hz - 16.0 amps |
Controller Specifications
| | |
| --- | --- |
| Display (Resistive Touch) | 7" (178mm) VGA (480 x 800) |
| Real-time Test Data | Graphic and Tabulation |
| Processor | Dual 32-bit ARM |
| RAM | 64MB |
| Memory, Non-Volatile | 4GB |
| Analog to Digital Converter | 24 bit |
| Logging Speed | up to 50 readings per second |
| Multi-Test Storage | 1000 |
| Points Per Test | 3000 |
| USB port (front) | export data, import/export calibration data, WiFi |
| USB Port (back) | provides external power for wireless access point |
| Ethernet Connection | for network connectivity |
| 24-bit Differential Analog to Digital Converter | 3 |
| Data Acquisition Channels | 6 |
| Ambient Temperature Sensor | 1 |
| Firmware Update | Flash drive |
Standards
Standards
AASHTO T296
AASHTO T297
AASHTO T208