Asphalt Mix Sample Splitter (QuarterMaster)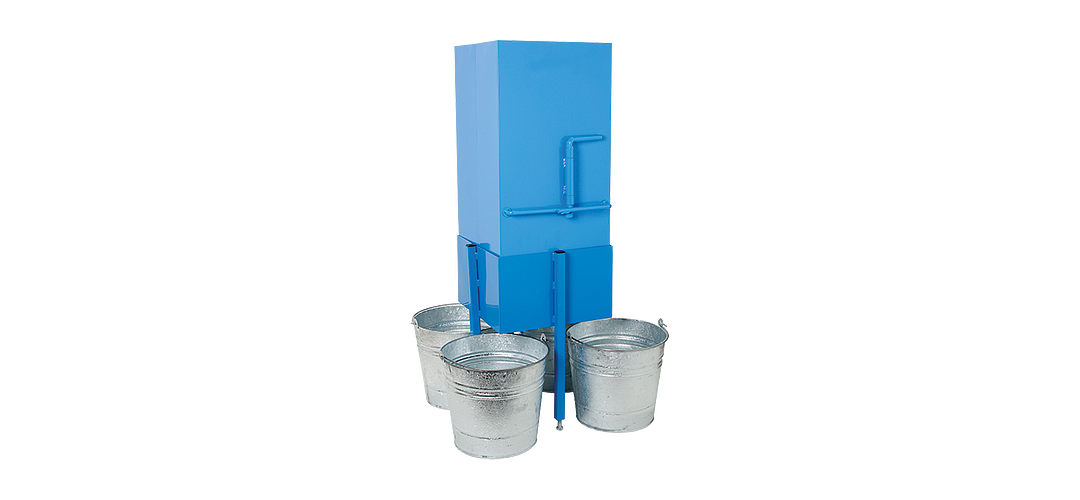 Product Options
Asphalt Mix Sample Splitter (QuarterMaster)
The QuarterMaster Asphalt Sample Divider is ideal for quickly and accurately dividing the large bulk mix samples required in Superpave specifications needed for quality control analysis. The hopper accepts samples up to 120 lb (55kg) of any mix with aggregate between 9.5 to 37.5mm and quarters it into four equal parts. In operation, the user simply fills the hopper with the mix sample and releases the hopper lever dividing the sample into the galvanized sample buckets. Using the device ensures greater control, consistency and uniformity in the preparation of test samples. The unit is supplied complete with four sample buckets.
Rugged two part steel construction is durable enough to withstand field conditions and allows portability between jobsites. Dimensions are 14"W x 17"D x 48"H (356 x 432 x 1219mm). To assist operation, order a H-1702 materials handling scoop.
Using the sturdy cotton Bucket Liner Sample bags allows direct collection of finished specimens to streamline sample handling and eliminates the need for cleaning the sample buckets. Four (4) Bucket Liner Bags are included and have fabric and thread temperature rated to 400°F (204°C).
Features:
Quickly and safely divides bulk asphalt samples for testing
One person can easily collect and secure samples
Rugged construction stands up to field use
Bucket-Liner Sample Bags streamline sample handling
Proven history of significantly reducing sample bias
Large hopper reduces handling of hot material during preparation of laboratory specimens
Accessories
Literature
Manuals, Data Sheets & Safety Data Sheets
H-4122 man 0810 (Product Manual PDF)