Smart Rock2, Wireless Maturity Sensor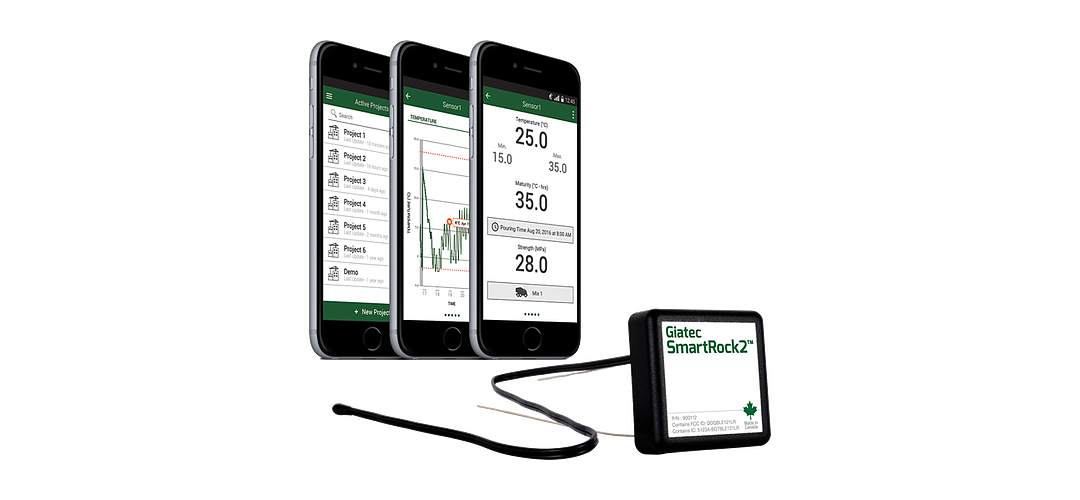 Product Options
Smart Rock2, Wireless Maturity Sensor
SmartRock2 is a rugged, mobile app-based wireless sensor for monitoring the temperature of concrete from fresh to hardened stage. It also estimates concrete strength, based on the maturity concept. The SmartRock2 can be placed in the concrete formwork, no more than 3" deep (installed on the rebar) before pouring, to monitor the temperature of concrete in situ. The continuous measurements are recorded on the SmartRock2 memory and can be downloaded at any time during the concrete setting and hardening onsite using the mobile application on a smartphone or tablet device.
The continuous monitoring of concrete temperature can be used as a QC/QA method as well as maturity-based strength estimation of concrete. The field monitoring of concrete temperature can also help with optimizing the formwork removal time, application of load on the structure, and adjusting the curing temperature of concrete onsite.
SmartRock2 can be used to monitor the temperature of fresh and hardened concrete. This information can be used for:
Available in 16" and 10 ft. cable lengths
Optimization of curing conditions
Quality control in the field
Estimation of strength (ASTM C1074)
Formwork removal timing
Post-tensioning
Opening road to traffic
Monitoring temperature gradients in mass concrete
Features (Hardware)
Wireless technology
Rugged and waterproof design
Easy installation and activation by tying the wires together
Extended temperature sensor cable for mass concrete
Long battery life (up to 3-4 months after installation)
Patents pending
Features (Software)
Real-time data display (e.g. temperature, strength, max-min)
Maturity calibration database
Free Android and iOS apps for smartphone and tablet
Easy data sharing between devices
Project management tools
PDF report generation
Photos and blueprints attachment
Goal limit setting for temperature and strength
For more information about Humboldt's web-based, Wireless Maturity System, click here.