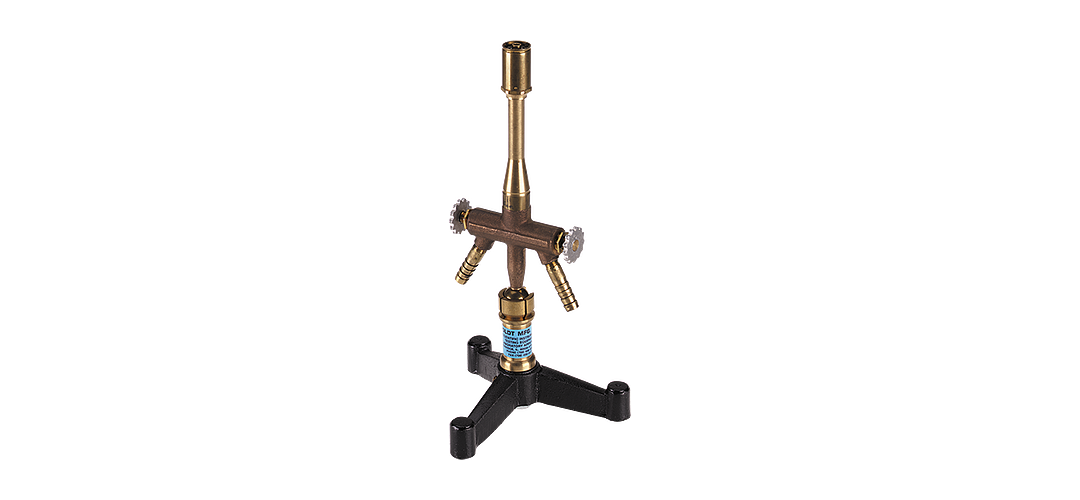 Product Options
Utility Blast Burner
This burner features a removable nozzle with perforated tip and orifice designed to aim a large, hot, pointed flame in a modified M.I.T. pattern with great accuracy. A universal ball joint positions the flame easily for working large pieces of hard glass. Separate needle valves with leak-proof packings are used to control the flow of gas and air/oxygen in the mixing chamber. All gases are usable. The mixing tube accommodates standard burner H-5110 and H-5115 standard burner heads, see page 6. Brass construction.
Specifications:
• Gas type: Artificial, Natural and LP
• Inlet OD: 3/8" (10mm)
• CFH*: 20 (16 with LP)
• BTU Output*: 20,500 (39,040 with LP)
• Overall Height: 10-3/4" (273mm)
*Note: CFHs and BTU Outputs are figured on:
5 inch Water Column Pressures for Artificial and Natural Burners. 11 inch Water Column Pressures for LP Burners.