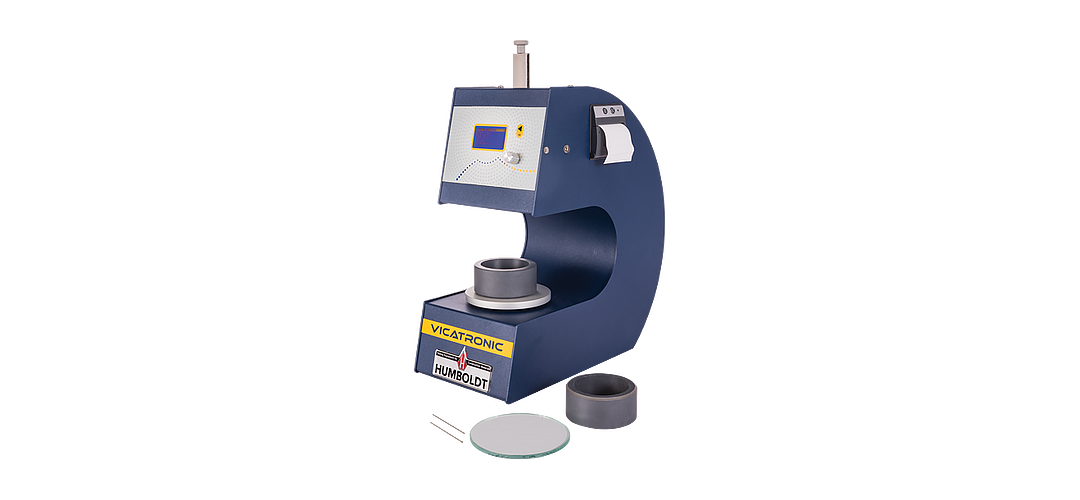 Product Options
Vicat Machine, Automatic
Supports the following standards:
AASHTO T131

,

EN 196/3

,

DIN 1164

,

DIN 1168 GYPSUM

,

NF P15/431

,

BS4550

The Vicatronic apparatus provides a completely automatic method for determining the initial and final setting time of cements or mortar pastes. The automated test operation provides for precise and repeatable results, which are automatically printed out from the integral printer built into the apparatus. The Vicatronic can also be connected to a PC via a RS232 cable allowing data to be downloaded via programs like Microsoft hyper terminal. The Vicat-Win software (H-3052.4) allows the receiving, managing, processing and completing test data; the software can automatically create graphs, personalize them and print test reports.

The Vicatronic has a large high-contrast, high-resolution LCD display, which shows the test data together with the general functions of the unit. The easy-to-see menu provides a simplified guide to running a test. During the test, the display also provides a real-time graph of the results, which can be monitored.

The Vicatronic is supplied with firmware that allows the automatic performance of tests in accordance with the following standards: ASTM C191, AASHTO T131, EN 196/3, DIN 1164, DIN 1168 gypsum, NF P15/431 and BS4550. Additional programs can be developed by the operator. This is particularly useful when testing new mortars, additives or research tests requiring sophisticated and flexible applications.

The Vicatronic is supplied complete with the integral printer, two hardened needles (one with 1mm diameter and one with 1.13mm. diameter), two conical molds EN and ASTM, and a glass plate to hold the conical mold. Dimensions: 15.75" x 7.87" x 18.5" (400 x 200 x 470mm).

Click here to learn more about cement and mortar principles and testing techniques.
Accessories
Replacement Parts
Standards
Standards
AASHTO T131
EN 196/3
DIN 1164
DIN 1168 GYPSUM
NF P15/431
BS4550