Constant Temperature Bath, 150°C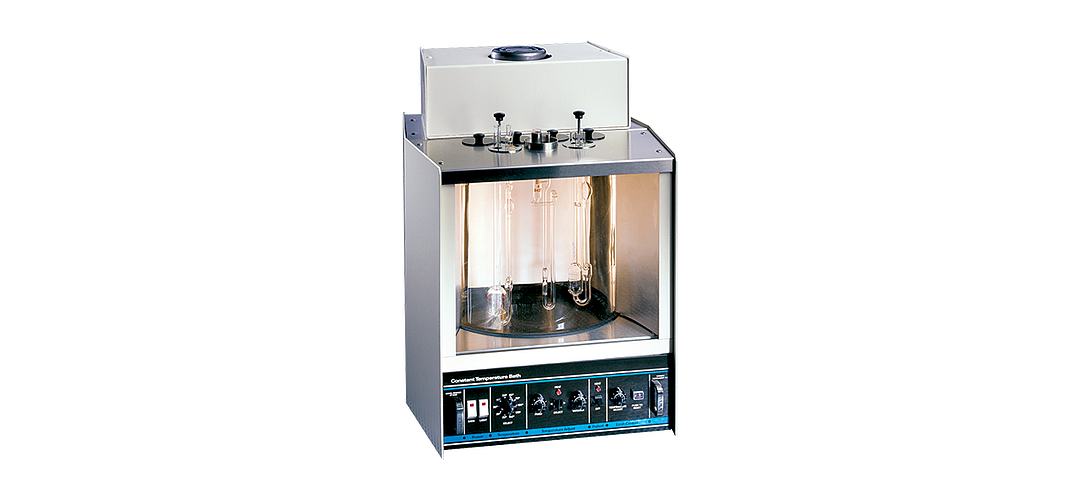 Product Options
Constant Temperature Bath, 150°C
(Cannon Model CT-1000)
The H-1730 Constant Temperature Bath maintains the accurate control required by ASTM D445 for kinematic viscosity measurements with glass capillary viscometers. Within the range of 20 to 100°C, temperature is controlled to 0.01°C; above 100°C temperature it is controlled to 0.03°C.
The H-1730 bath chamber is a cylindrical clear 17L Pyrex glass vessel 12"Dia x 12"H (305mm x 305mm). A stainless steel baffle coated with white PTFE is located in the center of the bath to provide a good background for viewing viscometers. Two fluorescent lamps illuminate the interior of the bath brightly and uniformly, without glare. Two heating elements inside the bath rapidly heat the bath medium to any temperature within the bath range. The top cover contains seven round holes 2" (51mm) in diameter. Up to seven glass capillary viscometers (in holders) can be placed in the bath. Other hole configurations can be supplied on special order.
A solid-state control circuit, equipped with a stainless steel-encased thermistor provides proportional control of temperature. A motor-driven stirrer ensures a uniform temperature throughout the bath. All wetted parts of the bath are made of stainless steel, glass, or PTFE. The bath housing is fabricated from heavy aluminum and coated with a corrosion-resistant epoxy finish. Viscometers, holders, bath oil, and thermometers must be purchased separately. Dimensions: 17.25"W x 18.25"D x 23"H (438 x 464 x 584mm). Shipping wt. 123 lbs (56kg).
Accessories