Consolidation Frame, Dead-Weight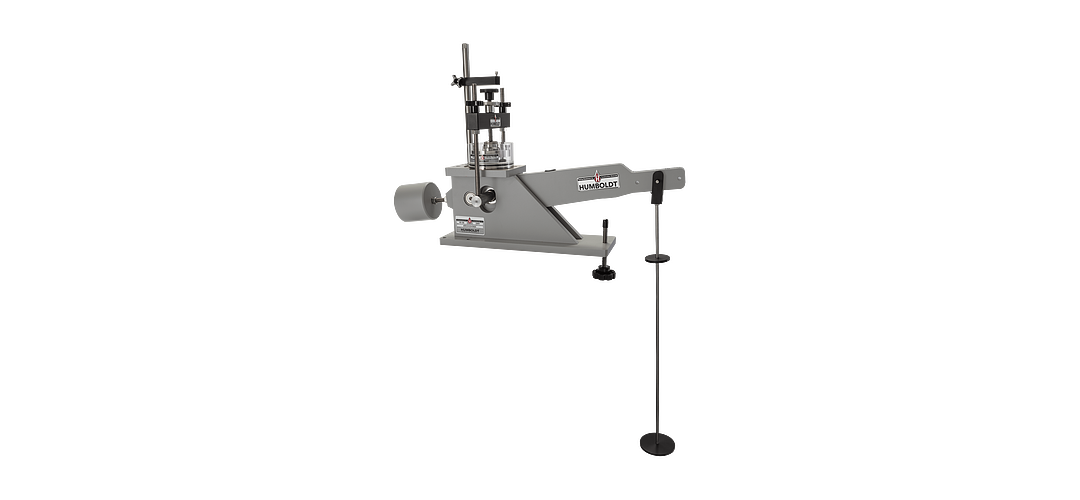 Product Options
Consolidation Frame, Dead-Weight
Supports the following standards: ASTM D2435, ASTM D5333, ASTM D4546,
AASHTO T216

,

BS 1377:5

Able to survive in even the harshest laboratory environments, the HM-1100A will provide you with reliable service day-in and day-out. The design features a rugged frame manufactured from aluminum with stainless steel vertical rods, horizontal cross arms and beam support rods. The load arm incorporates 9:1, 10:1, and 11:1 beam ratios for greater flexibility and loading weight requirements. Using the 10:1 ratio on 2.5" (63 mm) diameter samples, the system is capable of producing loads up to 48 tsf (4,597 kPa).

The HM-1100A is sold without instrumentation.

It can be configured as a standard unit with a mechanical dial gauge or when coupled with one of the Humboldt data loggers, the HM-1100A can be equipped with a digital indicator or with a strain transducer (LSCT). See the Specs tab above for a list of items needed for these setups. These additional items are listed on the Accessories tab above.

Features include:
Triple beam ratios minimize loading weight requirements
48 tsf (5,148 kPa) maximum load capacity
Aluminum and stainless steel construction for corrosion resistance and long life
Wide range of consolidation cells available in fixed ring, floating ring, permeability and back-pressure designs
Loading weights available in both, tsf and kg versions
Basic unit does not include a gauge, order gauge separately
The HM-1100A can also be paired with our Data Loggers with digital indicators or strain transducers (LSCT).
Order Consolidation Cells, Gauges and Instrumentation Separately
DATA ACQUISITION SETUP FOR HM-1100A
Data Acquisition and Control for both the HM-1100A Dead-weight consolidation machine can be achieved with the use of one of Humboldt's 4-channel data loggers. The touch-screen monitor of the data logger provides test control and live test monitoring in either a stand-alone or computer-controlled configuration.
With the HM-1100A, dead-weight loads are controlled by physically adding weights to the consolidation frame. The data logger provides four (4) integral and independent data acquisition channels, which can be utilized in stand-alone configurations or accessed through a LAN-networked computer using Humboldt's NEXT Basic software
Stand-Alone Test Monitoring
The touch-screen controller provides you with full, graphical monitoring of testing functions in a stand-alone application. The seven-inch, waterproof screen on the Humboldt Data Loggers provides at-a-glance monitoring of testing functions, in a real-time graphical display, without the use of a computer, building upon Humboldt's dedication to modular, stand-alone data acquisition.
In a stand-alone application, you will be able to run tests and display results while viewing tabulation, basic x-y graphs and instrument readings in real-time during the test, using user-defined, basic data acquisition. Test data is stored in the device and can be downloaded to a USB drive via the machine's FRONT USB port or the data can be transferred to a computer via the LAN port.
4-channel data acquisition
Hi-res, 7", waterproof, touch-screen provides total control and real-time graphical display of tests
Machine/Test control and data acquisition via touch-screen
Computer Test Monitoring
Humboldt's NEXT Basic software can be downloaded from: https://www.humboldtmfg.com/support/software.php for use with a Humboldt data logger and computer. This software provides basic data acquisition and report generation for those using a computer for this purpose.
In addition, you can purchase Humboldt's HM-5100SW Consolidation module for consolidation test-specific set up and monitoring of the testing function.
Data acquisition via a networked computer
Provides the ability to use Humboldt's NEXT Software's HM-5100SW consolidation module
Real-time graphical chart and numerical display of tests via computer display
Effective sampling rate of 50 readings/sec.
Stores unlimited tests with up to 3000 points per test.
Specifications
| | |
| --- | --- |
| Load capacity: | 48 tsf (4597 kPa) |
| Beam Ratios: | 9:1, 10:1 and 11:1 |
| Frame Construction: | Heavy-duty aluminum frame with stainless steel vertical, horizontal and beam support rods |
| Cell Platform: | Anodized aluminum with locating pins for centering cells. |
| Dimensions (W x D x H): | 7.75" x 32" x 19.5 (197 x 812 x 495 mm) |
| Net weight: | 47 lbs (21kg) |
| | |
| --- | --- |
| Load capacity: | 48 tsf (4597 kPa) |
| Beam Ratios: | 9:1, 10:1 and 11:1 |
| Frame Construction: | Heavy-duty aluminum frame with stainless steel vertical, horizontal and beam support rods |
| Cell Platform: | Anodized aluminum with locating pins for centering cells. |
| Dimensions (W x D x H): | 7.75" x 32" x 19.5 (197 x 812 x 495 mm) |
| Net weight: | 47 lbs (21kg) |
Typical Setup for HM-1100A Dead-weight Consolidation:
| SKU | QTY | Name |
| --- | --- | --- |
| HM-1100A | 1 | Consolidation Frame, Dead-Weight |
| HM-1120 | 1 | Weight Set Consolidation Testing Weight Set, 16 TSF |
| HM-1220.20 | 1 | Fixed Ring Consolidation Cell Consolidation Cell Part, Fixed Ring, 2.0" |
| H-4471CC | 1 | Dial Gauge, Range: .500", Division: .0001", Dia.: 2.25", Brake: No, Counter-Clockwise |
Dead-weight Consolidation w/ analog data acquisition:
| SKU | QTY | Name |
| --- | --- | --- |
| HM-1100A | 1 | Consolidation Frame, Dead-Weight |
| HM-1120 | 1 | Weight Set Consolidation Testing Weight Set, 16 TSF |
| HM-1220.20 | 1 | Fixed Ring Consolidation Cell Consolidation Cell Part, Fixed Ring, 2.0" |
| HM-2310.04 | 1 | Strain Transducer 0.4" (10mm) |
| HM-2310BR | 1 | Transducer Bracket for use with Humboldt HM-2315 |
| HM-5320.3F | 1 | Data Logger, Humboldt 4-Channel Analog, 120/220V 50/60Hz |
| HM-5100SW | 1 | Consolidation Module for NEXT Software |
Dead-weight Consolidation w/ digital data acquisition:
| SKU | QTY | Name |
| --- | --- | --- |
| HM-1100A | 1 | Consolidation Frame, Dead-Weight |
| HM-1120 | 1 | Weight Set Consolidation Testing Weight Set, 16 TSF |
| HM-1220.20 | 1 | Fixed Ring Consolidation Cell Consolidation Cell Part, Fixed Ring, 2.0" |
| HM-4470.10 | 1 | Digital Indicator 1" x .0001 (25 x 0.002mm) |
| HM-4470C | 1 | Data Cable for use with Digital Indicators and Humboldt HM-5330.3F Data Loggers |
| HM-5320.3F | 1 | Data Logger, Humboldt 4-Channel Analog, 120/220V 50/60Hz |
| HM-5100SW | 1 | Consolidation Module for NEXT Software |
Accessories
Standards
Standards
AASHTO T216
BS 1377:5