Guardian 7000 Ceramic, Hotplate/Stirrers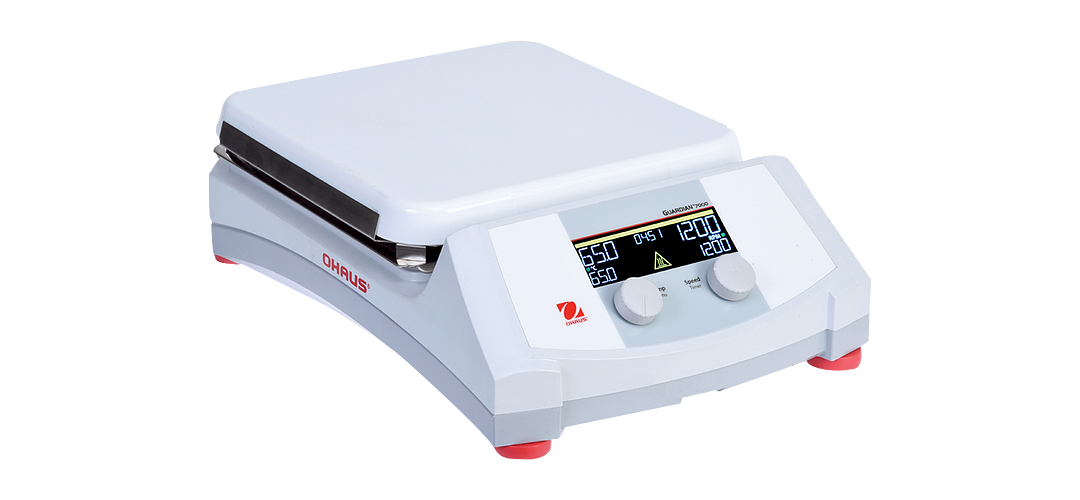 Product Options
Guardian 7000 Ceramic, Hotplate/Stirrers
OHAUS Guardian 7000 Hotplate Stirrers are designed with outstanding safety features and superior heating and mixing performance. The SmartHousing™ is chemical resistant with an innovative, easy-to-clean design that channels spills away from internal components and the angled glass control panel. The bright LCD display includes intuitive icons, temperature, speed and time settings - all designed to monitor performance from across the lab.
Unique Features:
SmartPresence™ and SmartLink™ Technologies Ensure Supervised Operation— Protect your lab with patented SmartPresence™ and SmartLink™ technologies. These exclusive features automatically shut off the heater if no one is detected after a user set "time out" period has passed.
SafetyHeat™ System Protects the Lab— An industry-leading, early-detection system that uses two independent safety controls to continuously monitor the electronics and shut off heating before an over-temperature condition occurs.
Powerful, Consistent Stirring Performance— Precise stirring from 60 to 1600 rpm is made possible by the design of a powerful motor, strong magnet and software controlled ramp rate, ensuring secure magnetic coupling for viscous applications.
Customized Performance for Precise Applications— SmartHeat™ allows you to set the maximum temperature of the unit and SmartRate™ enables fast or slow temperature and speed ramp rates. The programming feature allows storage of 5 multi-step programs.
Specifications
| | |
| --- | --- |
| Overall Dimensions: | 42.2 x 28.6 x 12.2cm (16.6" x 11.25" x 4.8") |
| Top plate dimensions / Material: | 17.8 x 17.8cm (7" x 7") Ceramic 25.4 x 25.4cm (10" x 10") Ceramic |
| Electrical (50/60 Hz): | 120 volts ±10%: 11.2 amps 230 volts ±10%: 7.0 amps |
| Fuses: | 120 volts: 15A quick-acting, 6.3x32mm, 125VAC 230 volts: 10A time-delay, 5x20mm, 250VAC |
| Temperature range: | Ambient +5° to 500°C |
| Temperature stability of top plate: | ± 3% > 100°C, ± 2% ≤ 100°C |
| Temperature stability with temperature probe: | ± 1% > 100°C, ± 1°C ≤ 100°C |
| Stir capacity: | 18L |
| Speed range: | 60 to 1600rpm |
| Speed stability: | ±2% |
| Weight capacity: | Up to 14.5kg (32 lbs) |
Accessories