Humboldt Concrete Air Meter
Product Options
Humboldt Concrete Air Meter
The H-2783A air meter, which exceeds ASTM requirements, features the Humboldt, all-brass super pump, the most reliable and highest quality pump available. The meter's easy-to-use, and extra durable stainless steel clamping system employs four, one-piece, self-locking clamps that quickly seal the lid to the base with proper tension aided by an o-ring to assure a watertight seal. The large, easy-to-read, 4-inch diameter, heavy-duty, direct percentage gauge with calibration adjustments is accurate to the nearest 0.1%. The bucket, or pressure chamber, features EZ-grip, cast handles, which improve usability. This is especially true when the bucket is also used as a 0.25 cu. ft. unit weight measure. The lid of the pressure meter features a smooth sloped top so water and concrete wipe right off. By eliminating the cavities in the lid that trap and hold concrete, maintenance and repair problems are greatly reduced. The meter also features a machined base, which ensures the meter sets level when conducting tests. The kit includes a durable plastic carrying case; a tamping rod; strike-off bar; rubber bulb syringe; plastic calibration vessel; inside calibration tube, outside calibration tube and operating instructions.
Features Include:
Humboldt all-brass Super Pump
Large, heavy-duty, easy-to-read gauge
Cast handles for secure grip
Bucket can be used as a 0.25 cu. ft. unit weight measure
Complete with all needed accessories and case
The Kit Includes:
A durable plastic carrying case with die-cut foam padding
A tamping rod
Strike-off bar
Rubber bulb syringe
Plastic calibration vessel
Inside calibration tube
Outside calibration tube
Operating instructions
Accessories
Replacement Parts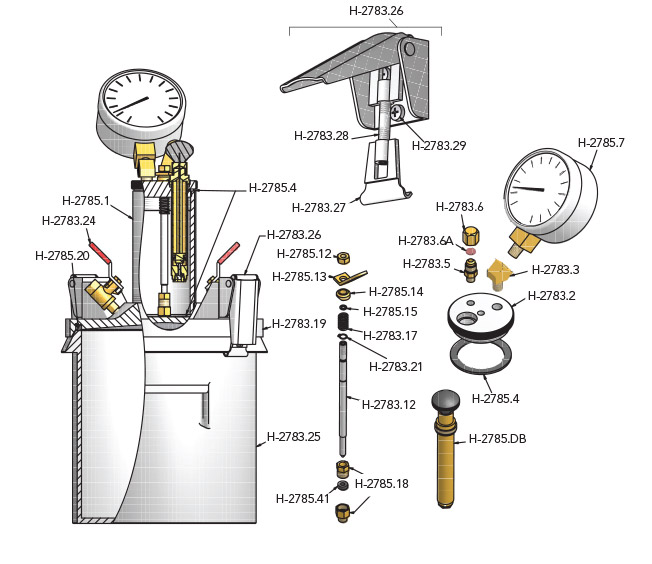 Product Videos
All Videos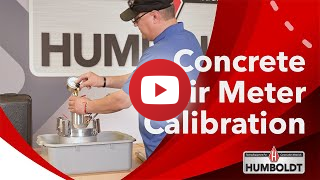 Concrete Air Meter Calibration Guide - Humboldt Services
This video will give you an in depth guide to calibrating your...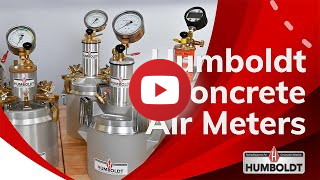 Concrete Air Meters for Construction Tests - Humboldt Testing Equipment
Humboldt has a full selection of Concrete Air Meters each with their...