Humboldt HCM-5080 Automatic Controller
Product Options
Humboldt HCM-5080 Automatic Controller
Humboldt's Automatic Pump and Controller System is the most versatile, accurate and easy-to-use concrete compression machine controller available today.
It is designed to make fast work of testing cylinders, cubes and beams with any of Humboldt's concrete compression machines. It provides an easy-to-use automated testing workflow — just choose the test standard you wish to use from the menu, and you will be quickly guided through the test setup and testing process. It is the ideal automatic system whether you are purchasing a new concrete compression frame or upgrading an existing frame.
The system features a robust, reliable and cool-running 1hp, multi-piston pump, which works together with the controller for full operational control. The controller's high-resolution, 7-inch, color, touchscreen provides accurate, precision machine operation, setup and calibration. Setup and operation are simple with step-by-step procedures.
Calibration is also easy with the controller, allowing from 1 to 10 points to calibrate the machine in any increment chosen. It also provides an accurate motor-control knob, which allows calibrators to dial in precise calibration loads.
The system provides two channel inputs for load, which can be used to control two separate compression frames when using the HCM-HP4014 selector valve accessory. Two additional channels are provided for displacement, which provides an easy solution for determining Poisson's ratio and Young's modulus testing.
The controller also provides data acquisition capabilities of up to 1000 tests with 3000 points per test. This information can be exported via the front USB port and a flash drive.
Features:
Provides 2 channel inputs for load, which allows for the control of two separate compression frames
Provides 2 additional channel inputs for displacement, which allows performing extensometer and compressometer testing
7", high-resolution color touch-screen display with live readout, graphical and tabular display
Easy test setup, just choose the standard you wish to test for and the controller will walk you through the complete setup
Rapid approach, initial load and testing load are automated during test cycles
Automatic control of test parameters
Provides data acquisition of one reading per second
Integral storage within the controller of up to 1000 tests and 3000 points per test
For additional information about compression machine controllers, click here.
Specifications
| | |
| --- | --- |
| HCM-5080 | 120V 60Hz |
| HCM-5080.4F | 220V 50/60Hz |
| Display | 7" (178mm) VGA (480 x 80) Resistive-touch Screen |
| Processor | Dual, 32-bit ARM |
| RAM | 4GB |
| Analog to Digital Converter | 24 bit |
| Data Acquisition | 2 Channels for Load & 2 Channels for Displacement |
| Data Speed | 1000Hz (1kH) |
| Logging Speed | 1 reading per second |
| Multi-Test Storage | 10000 |
| Points per Test | 3000 |
HCM-5080 Controller Includes
| | |
| --- | --- |
| HCM-5080.800 | Controller |
| HCM-5080.900 | Pump Controller |
| HCM-5080.925 | Hydraulic Power Pack |
| HCM-5080.950 | Power Pack Installation Kit |
To order, specify either HCM-5080 (120V 60Hz) or HCM-5080.4F (220V 50/60Hz)
Accessories
Standards
Product Videos
All Videos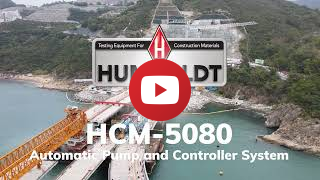 Humboldt's HCM-5080 Automatic Controller
Humboldt's HCM-5080 automatic controller is designed to make fast...