Manual 100,000lbs (445kN) Humboldt Compression Machine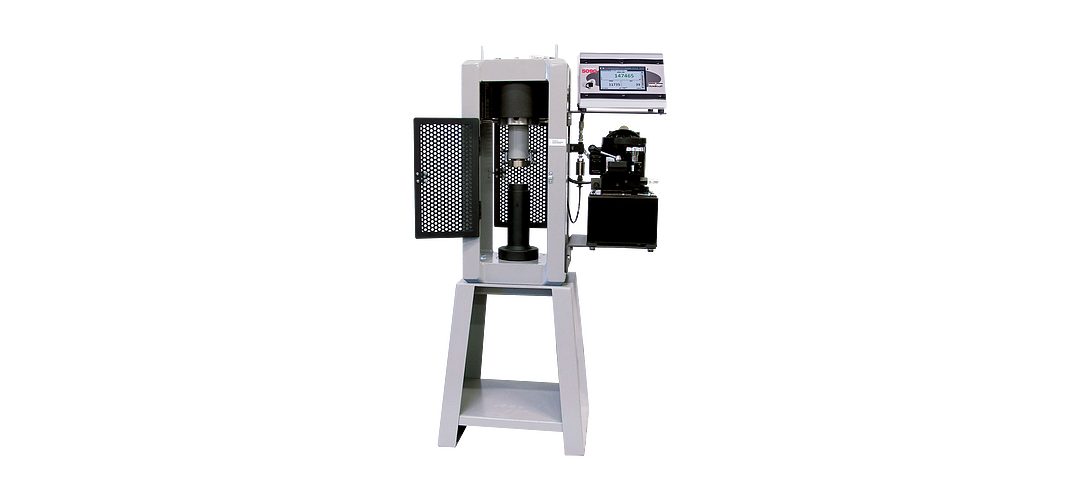 Product Options
Manual 100,000lbs (445kN) Humboldt Compression Machine
Supports the following standards: ASTM C469, ASTM C39, ASTM C109,
ASTM E4

,

AASHTO T22

The HCM-1000 has been custom-configured to be used for mortar applications like 2" and 4" cubes, beams and other low-strength materials, below 100,000 lbs. (445kN). These machines are based on HCM-2500 frames, which have been reconfigured for accurate readings of lower-strength materials. The machines are sold without platens, so be sure to order the appropriate set for your applications.
Custom-configured for mortar applications like 2" and 4" cubes
1,000 to 100,000 (11 to 445kN) testing range with accuracy of ±0.5% of indicated load
Machine comes with no platens, order the appropriate set for your applications
Choice of 2 digital controllers and 2 digital indicators
Mounting stand: OPTIONAL, order: HCM-0200
Specifications:
Vertical Opening - 19.375" (492mm)
Horizontal Opening - 9.25" (235mm)
Piston Stroke - 2.5" (63.5mm)
Lower Platen - NA
Upper Platen, Dia. - NA
Oil Reservoir Cap - 2 gal. (7.6 liter)
Overall Width - 30" (762mm)
Overall Depth - 23.750" (603mm)
Overall Height - 60.625" (1540mm)
*Frame opening dimensions are measured without test platens installed in machine. Overall machine dimensions are measured with the stand, including machines where it is optional.
Humboldt offers several excellent controllers for use with our concrete compression machines allowing you to choose the controller that best fits your application.
Manual Controllers
Humboldt also offers the HCM-5090, a digital indicator for use with manually-operated machines. This controller features many of the features of our automatic controllers except that it is designed for use with a manually-operated pump. The HCM-5090 incorporates the same standard test setups as the automatic controllers. Just pick the test you want to run as you configure your test and the controller will guide you through setup from where you can proceed with your test.
Humboldt's HCM-5090 Controller features a 7" high-resolution, color, touch-screen, which provides accurate, precision machine operation. And, featurea two channel inputs for load, which allow for the control of two separate compression frames and two additional channel inputs for displacement, which allow for extensometer and compressometer testing
For the budget-minded operation, we also offer the i7 indicator, which is an easy-to-use digital load indicator that simultaneously displays both live load and rate of load values during a test.
Accessories
Replacement Parts