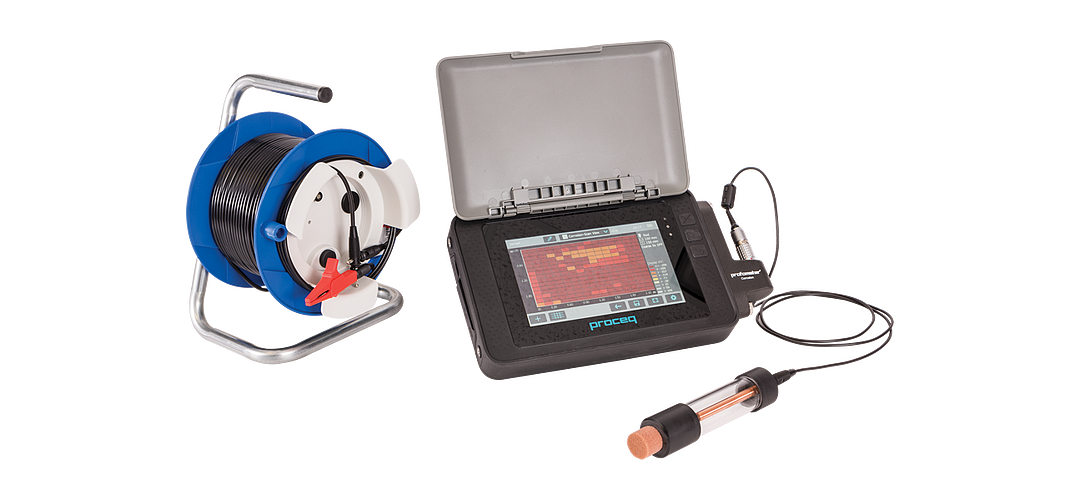 Product Options
Profometer Corrosion
The Profometer Corrosion is the most versatile corrosion analysis solution, based on the half-cell method, in the market today. Coupled with the Profometer's unique wheel electrodes, this unit provides the fastest and most efficient on-site testing available. And, as the direct successor to the Canin, the Profometer Corrosion is compatible with existing Canin and most third party electrodes.
In addition, the Profometer Corrosion can also be easily upgraded to include all the additional capabilities of the Profometer 6 Cover Meter. This results in having a future-proof, all-in-one solution for rebar assessment and corrosion analysis.
The Profometer's dual-core processor allows fast data acquisition and real-time control over the measurement procedure directly on site. Its rugged housing has been specially developed for testing in harsh environments.
The high resolution and illustrative Profometer touchscreen enables high productivity with 2D grid views, an assisted workflow and on-site post processing of the measured data. Together with the included PC software it allows best possible analysis of the statistical data with efficient custom reporting.
Features Include:
Intuitive user-friendly interface for data acquisition
Optimized workflow for both rod and wheel measurements
Customizable text can be entered for any specific locations
Flexible features enable the mapping of any irregular geometry
Improved digital filtering to remove the effect of external noise (civil and industrial power sources)
Profometer Link PC software for data analysis, combined data evaluation and reporting on any third party software
Create custom reports with exported graphs and charts
Housing is specially designed to be used on-site in harsh environments, including carrying strap, integrated stand and sunshield cover
High resolution color display
Battery lifetime of > 8h
8 GB flash memory
Dual-core processor supporting diverse communication and peripheral interfaces
Future-proof investment through direct upgrade possibilities for upcoming Profometer products
Profometer Corrosion Includes:
Profometer touchscreen; interface box; battery charger; 82 ft. (25m) cable coil with clamp; USB cable; DVD with software; documentation, carrying strap and case.
Does not come with an Electrode.
Please order Electrode separately from the options below.
Specifications
| | |
| --- | --- |
| Voltage Measuring Range: | -1000 to +1000 mV |
| Voltage Resolution: | 1 mV |
| Impedance: | 100 MΩ |
| Sampling Rate: | 900 Hz |
| Display: | 7" color display - 800 x 480 pixels |
| Memory: | Internal 8 GB flash memory |
| Regional Settings: | Metric and imperial units and multi-language and timezone supported |
| Power Input: | 12 V +/-25% /1.5 A |
| Dimensions: | 250 x 162 x 62 mm |
| Weight (of display device): | About 1525g (incl. battery) |
| Battery: | 3.6 V, 14 Ah |
| Battery Lifetime: | > 8h (in standard operating mode) |
| Humidity: | < 95% RH, non condensing |
| Operating Temperature: | > -10°C to +50°C |
| IP Classification: | Touchscreen IP54, universal probe IP 67 |
Accessories