Vacuum Pycnometer Set, (4.34L) for Rice Test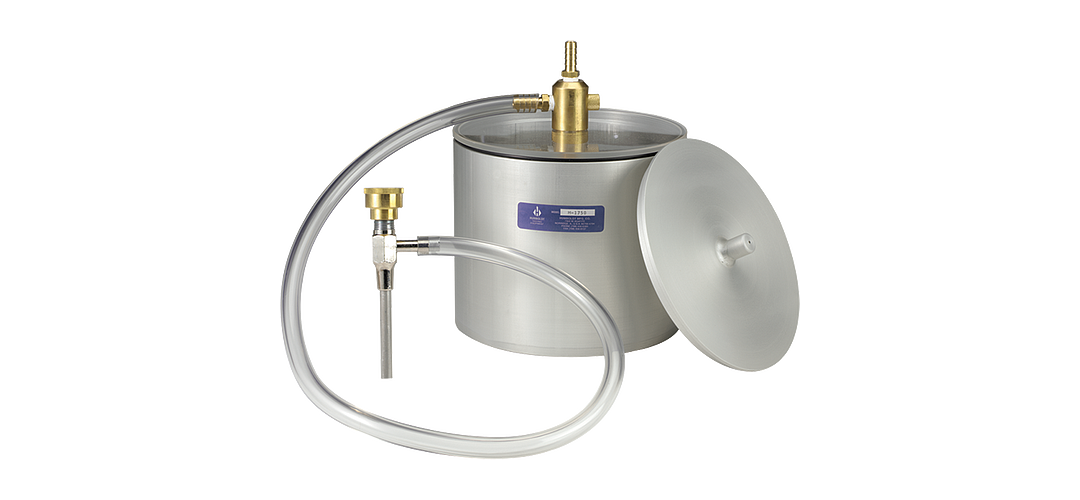 Product Options
Vacuum Pycnometer Set, (4.34L) for Rice Test
Supports the following standards: ASTM D2041, ASTM D4867,
AASHTO T209

,

AASHTO T283

Used in rice testing to determine the maximum specific gravity of bituminous paving mixtures with maximum aggregate size up to 19.1mm (.75"). The H-1750 provides a 4.34L volume with a 2.9L max. sample volume and typically a 2500g required sample size and a 7.5" ID x 6" depth. Set includes aluminum volumetric canister; volumetric lid; flat, vinyl vacuum lid with O-ring and a metal water vacuum aspirator with 3/8" IPT and 6' hose with release valve and fittings. Unit achieves vacuum using an aspirator or optional vacuum pump.

This set is also available in stainless steel, order H-1750SS. For those who want to use smaller test samples, the H-1751 is available. The H-1751 provides a 2.9L volume with a 1.9L maximum sample volume for a typical sample size of 1500g. It measures 7.5" ID x 4" depth, but the H-1751 does not comply with ASTM specs.

A larger volume model pycnometer is also available. It provides a 5.8L volume with a 3.9L maximum sample volume and a 4000g typical sample size. It measures 7.5" ID x 8" depth.

All models can be used with H-1756A vibrating apparatus or H-1782 de-airing device, and H-1754D manometer, sold separately. Replacement parts are available, please inquire.
Replacement Parts
Standards
Standards
AASHTO T209
AASHTO T283