Constant Temperature Bath, 100°C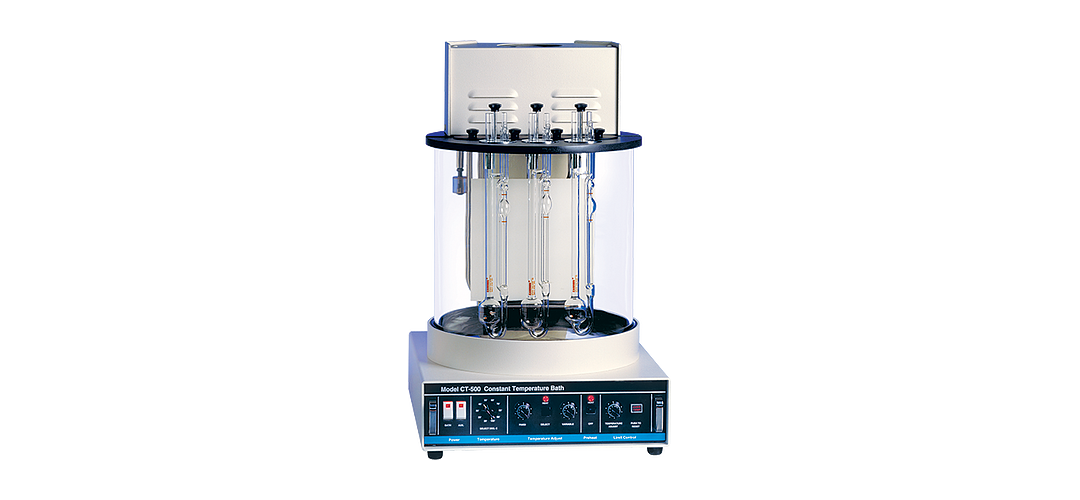 Product Options
Constant Temperature Bath, 100°C
Supports the following standards: ASTM D445
(Cannon Model CT-500)
Specifically designed for precise viscosity determination with glass capillary viscometers, the H-1720 baths offer superior temperature control to 100°C. The H-1720 offers a 12"Dia x 12"H (305mm x 305mm). bath jar that can accommodate most viscometers.
These baths maintain accurate temperature control of ± 0.01°C within the range of 20°C to 100°C (±0.01°C), providing the temperature sensitivity required by ASTM D445 for kinematic viscosity measurements with glass capillary viscometers. Two electric heating elements inside the bath rapidly heat the medium to any desired temperature within the range.
The H-1720 bath chamber is a cylindrical clear glass vessel 12" d ia x 12"H (305mm x 305mm). A stainless steel baffle located in the center of the bath provides a plain reflective background to aid in viewing instruments. The top cover contains seven round holes 2" (51mm) in diameter for insertion of viscometer holders, allowing up to seven viscosity measurements to be made simultaneously. Covers are supplied for capping unused holes. Two additional holes 10mm in diameter, are provided for thermometers. All wetted parts of the Constant Temperature Bath are made of stainless steel or glass. The frame is fabricated from heavy aluminum and coated with a corrosion-resistant epoxy finish. Viscometers, holders, bath oil, and thermometers must be purchased separately. Dimensions: 16"w x 14.25"d x 24"h (407 x 362 x 610mm).
Accessories
Replacement Parts