Guardian 5000, Ceramic, Hotplate/Stirrers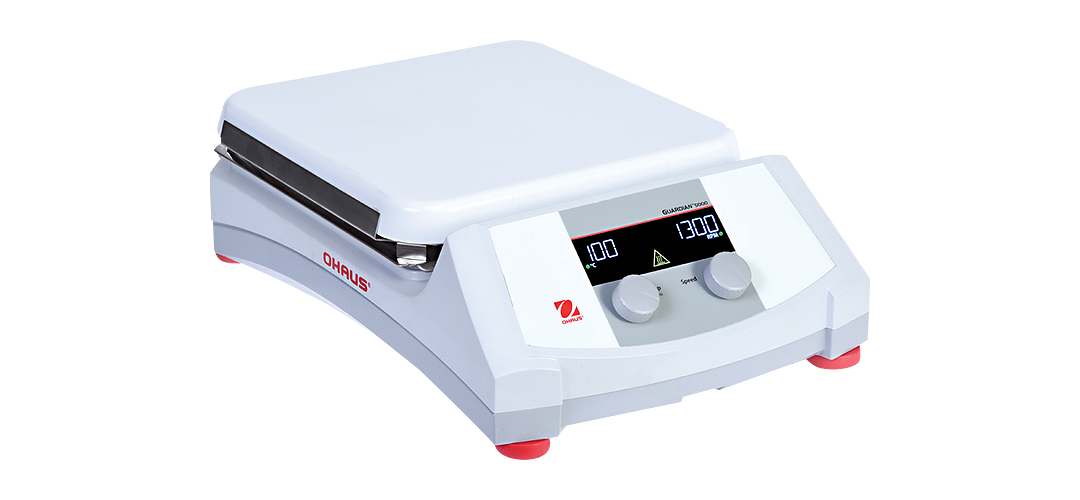 Product Options
Guardian 5000, Ceramic, Hotplate/Stirrers
OHAUS Guardian 5000™ Hotplates Stirrers are designed for safety and simplicity in all research, academia and industrial applications. The design ensures proper mixing and temperature control of the top plate or your sample when using the optional temperature probe. Heating models include a Single Point Calibration feature for multiple set points. Select from two stirring models with two plate sizes for your everyday heating and stirring applications.
Unique Features:
SafetyHeat™ System Protects the Lab— An industry-leading early detection system that uses two independent safety controls to continuously monitor the electronics and shut off heating before an over-temperature condition occurs.
Powerful, Consistent Stirring Performance— Precise stirring from 60 to 1600 rpm is made possible by the design of a powerful motor, strong magnet and software-controlled ramp rate, ensuring secure magnetic coupling for viscous applications.
Easy to Read LCD Display With Everything You Need to Know— The bright LCD display includes large temperature and speed settings, intuitive icons and a prominent hot top indicator - all designed to quickly and easily monitor performance from across the lab.
Designed for Durability and Reliability with the Exclusive SmartHousing™— The SmartHousing™ is chemical resistant with an innovative, easy-to-clean design that
channels spills away from internal components and the angled control panel.
Specifications
| | |
| --- | --- |
| Overall Dimensions: | 30.7 x 22.4 x 12.2cm (12.1" x 8.8" x 4.8") |
| Top plate dimensions / Material: | 17.8 x 17.8cm (7" x 7") Ceramic 25.4 x 25.4cm (10" x 10") Ceramic |
| Electrical (50/60 Hz): | 120 volts ±10%: 10.0 amps 230 volts ±10%: 6.0 amps |
| Fuses: | 10A time-delay, 5x20mm, 250VAC |
| Temperature range: | Ambient +5° to 500°C |
| Temperature stability of top plate: | ± 3% > 100°C, ± 2% ≤ 100°C |
| Temperature stability with temperature probe: | ± 1% > 100°C, ± 1°C ≤ 100°C |
| Stir capacity: | 15L |
| Speed range: | 60 to 1600rpm |
| Speed stability: | ±2% |
| Weight capacity: | Up to 14.5kg (32 lbs) |
Accessories